Kelly Klein has been teaching at Falcon Heights Elementary, Minnesota, for the last 32 years, and even though she's been diagnosed with cancer, she still teaches there –from the hospital.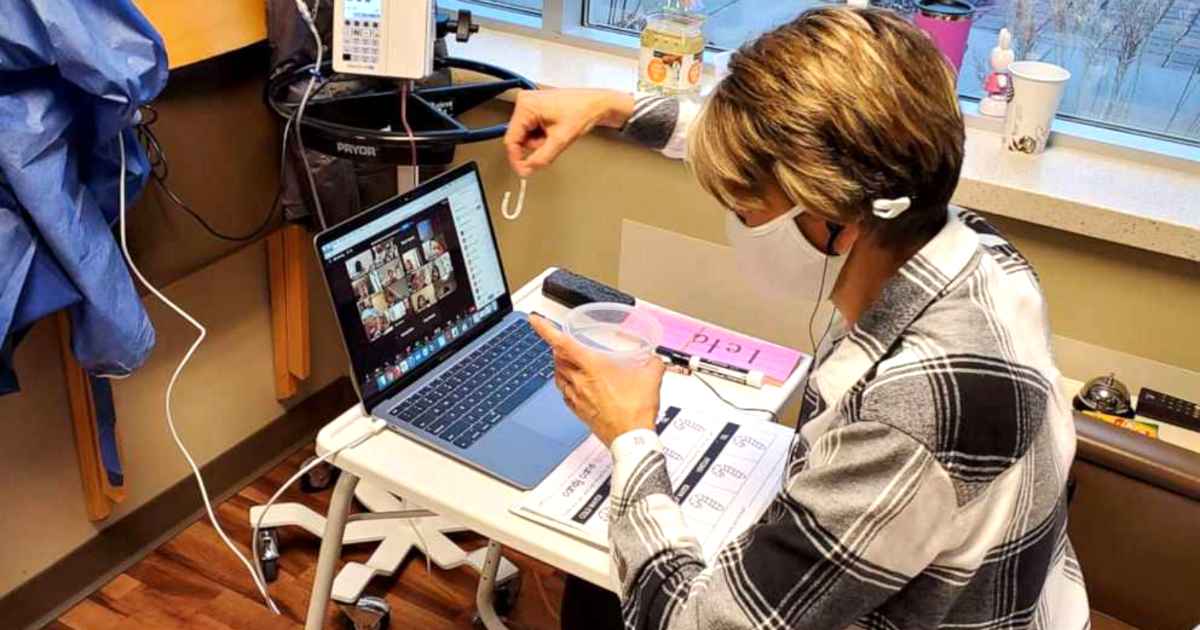 Kelly began as a student at Falcon Heights and later on became a teacher. Five years ago, she was diagnosed with ovarian cancer and took a year off to deal with chemo. Now last year, it's come back again, but now with much of the education system being online, she's teaching her students from the hospital.
She has to go for a monthly trip to M Health Fairview Lakes Medical Center in Wyoming, Minnesota but has adjusted so well that she continues to teach from "office" even as she's getting her chemo.
She says that kids are a vital part of her treatment, "Teaching 5-year-olds I always say is like going to Disney World," she said. "Everything is exciting and they're so excited about everything that it gets me excited. She adds, "When you're at chemo and you're around a lot of sick people, it's kind of a depressing place to be. For me, to be around 5-year-olds during that time, it's like a slice of normalcy in an abnormal environment."
As Kelly's story has gone viral her former students are coming forward to thank her for her work. "I've had a ton of students message me and say that I was 'that teacher' for them, that I'm the teacher they remembered," Klein explained. "That's all I ever wanted, was to be that teacher for kids. "To read that back, it was super emotional. That's all you want as a teacher, to be that teacher for someone."
The parents of her current students are also full of good words for Kelly and the way she is in invested in her students, "She's a very beloved teacher and she deserves it because she's the type of teacher who shows up every year," principal Beth Behnke said of her. "And what she's doing is part of living in our world, just helping kids manage through lots of situational things that don't have to define us but are part of our lived experience."
For Kelly Klein, the most important "three F's are: family, 5-year-olds and friends." She also says that it is crucial to "spend your time with those that lift you up, those who are positive." She adds, "I'm going to make the most of my time," she added. "I don't take anything for granted."