When a mom prayed for her teen son who was pronounced dead from a car crash, she witnessed the miracle working power of God and it changed her life completely.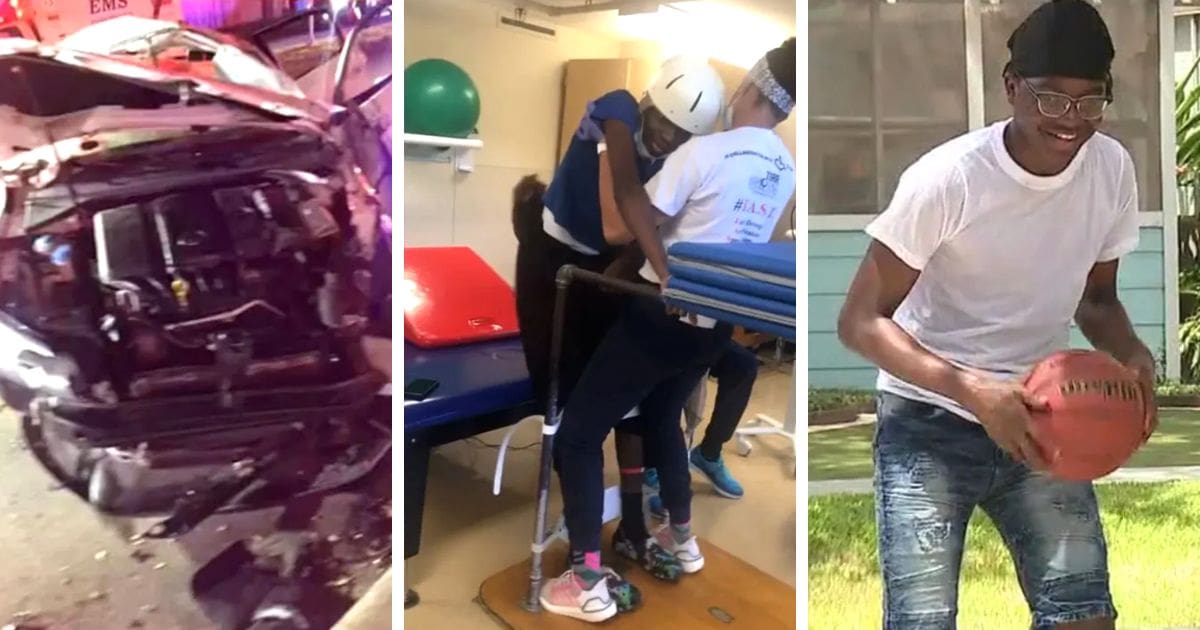 One year ago, La'Kisha Wells got a call that no mom would want to get, the call was about her 15-year-old son, Torianto "Junior" Brinson, who was in a car accident near their home in Missouri City, Texas.
The family had just moved into their new house and Torianto was doing great in his studies, music and sports. Their life had been going well until La'Kisha received that heartbreaking call.
"One minute after it happened, my daughter called me, and she was hysterical," La'Kisha recalled.
"'Mom, you need to get here now.' So they were literally around the corner from the house. So we drove up the street. Had to get out of the car, run, and saw him laying there." Torianto was thrown from the damaged car and was lifeless. "There were four emergency services working on him, and he wasn't responding, he wasn't breathing, he wasn't moving. He was just laying there," La'Kisha said.
The teen was transported to Texas Medical Center, where the doctors pronounced him dead. "They told us that he was gone, there was nothing they could do, and I remember asking them, 'You're just going to let my baby just sit here?' and they were like, 'There's nothing they can do,'" La'Kisha said. But the devout Christian mother knew that there was something that was needed to be done.
She began to pray and asked her family to join her in praying for Torianto and then the impossible happened. She said, "I was holding his hand, and I prayed and told him: 'Junior, I need you!' A minute later, I saw his hand move," La'Kisha recalled. That sign was enough to get him into emergency surgery, however, it was the start of a long road to recovery because he had suffered brain damage and needed to be monitored continuously.
Torianto was in a semicoma for months and made significant progress to be moved into another hospital. Liz Larkin, a physical therapist with TIRR Memorial Hermann said, "He was still having trouble moving around in bed consistently," she said, "Getting up and walking was very difficult. It required two people to help him. He also struggled — and it's pretty common after an injury like his traumatic brain injury — to have noticed changes in behavior, which we expected."
"It actually is a good sign! It means he's getting better, but (he had) moments of difficulty regulating impulses." She continued, "So, the amount of sound and noise and light and things like that, to give him the best opportunity for success."
La'Kisha, a teacher used her skills to help Torianto improve day by day. The young teen doesn't have any memory of the crash, semicoma, or rehab. But he's very positive about his future.
As Torianto finished high shool courses in middle school, he will be graduating along with his class, even though he was absent for a year. He's even playing basketball again.
La'Kisha shared a post on Facebook writing, "But God…. But God….. But God….," he said. "After almost a year of praying, work, affirmations, work, prayer, affirmations, faith, FAITH, and more Faith. What Satan attempted to steal from my son, God restored back to him. I did a TikTok of just his progress and it was sent to Fox News. They did a story about him because he is truly an inspiration."
She wrote, "Every mother, every Father, every person. It does NOT matter what man says, all you need to know is what GOD says. For he has the final Say. "I pray this story ministers hope to your souls."