A high school football player helped save a mom and child during the recent Texas floodwaters. Jayden Payne rescued them from the raging waters of Tropical Depression Imelda.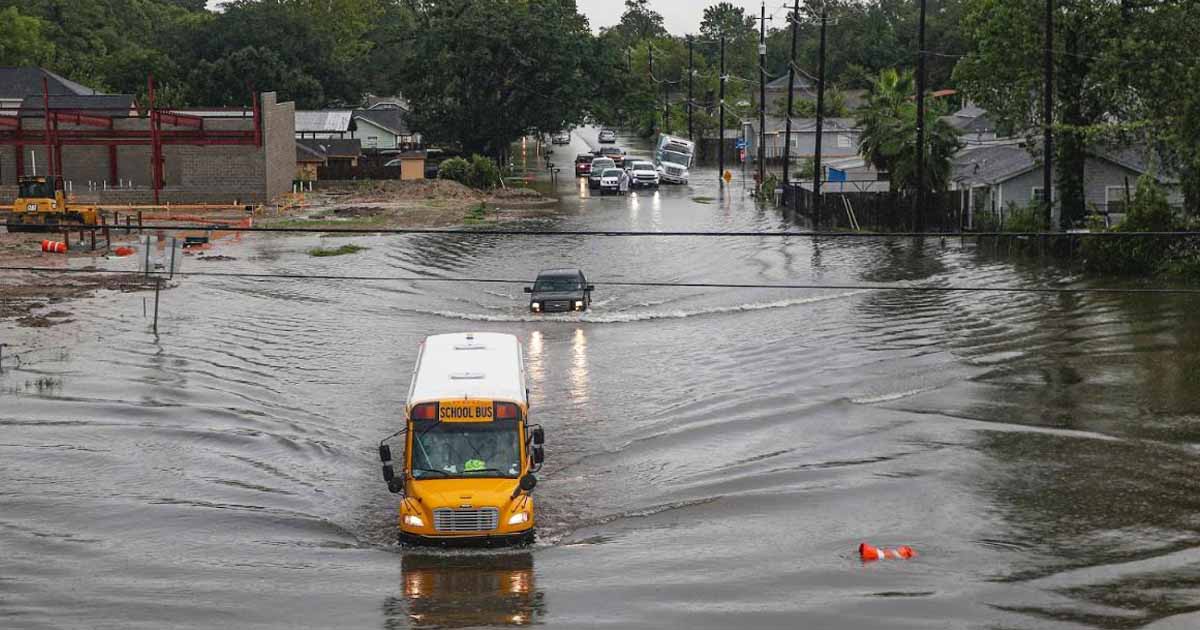 Vinitta Williams was trying to take her 2-year-old daughter Ava safely home after daycare in the pouring rain, her car soon found its way into a flooded drainage ditch near Aldine High School which was Jayden's school.
Jayden and his mother, Cynthia Payne, saw the mother and daughter struggle in their car, he said, "The whole street was just submerged with water," Jayden recalled, "I hear my mom screaming, 'No, no! Someone stop her! Get out of the car! Get out of the car!' I just started seeing it sink," he explained.
Williams' car was beginning to sink, and she was struggling to open its door. "That's when I really lost it," Williams said. "I was like, 'Oh my God! Are we going to die in here?' I grabbed my baby, and I started kicking and pulling and kicking and pulling and somehow, it opened."
But the rushing water was pulling them down and Williams held her daughter above her head, but couldn't come up to safe ground. That's when Jayden saw the struggle and rushed to help them. "I threw my jacket off and I threw my shirt off … and I dove in," he said. Williams gave Ava to Jaden who with the help of two other men pulled them to safety.
"He is my guardian angel. He's my hero," Williams said. "I feel like I did something great," Jayden said. "I had to make sure two of God's children didn't die at an early age." This good deed of Jaden has been noticed by people and has earned him a lot of recognition for his character. His football coach, Hank Semler, said that his leadership was noted on and off the field. He said, "To risk your own life to save people that you don't know—he didn't know that lady and her child," he said. "He just saw fellow people that needed help and he just immediately sprung to action."
The word spread like wild fire on social media and soon Houston Texan's quarterback, Deshaun Watson invited him to be the special guest at the game vs The Panthers. "Jayden—you are a real-life hero!" he wrote in a tweet. "I'd like to invite you to be our special guest at our game this Sunday vs. the Panthers." Jaden could not believe the invitation and said, "Who me?" he said. "I was shocked … I was so excited, I'm still so excited."
Jayden – you are a real life hero! I'd like to invite you to be our special guest at our game this Sunday vs. the Panthers @AldineHS_AISD @gunghoMustangs https://t.co/nhkX3tOtHC

— Deshaun Watson (@deshaunwatson) September 23, 2019
Jaden is such an inspiration to all the young people in the community with his amazing act of kindness shown to a helpless mother and baby daughter.