When nine-year-old Brooke Yost went to a gas station with the intention of buying a container of donuts, she was disappointed to realize she didn't have enough money. However, a kind-hearted law enforcement officer who was standing behind her in the line stepped up and offered to pay for her treat.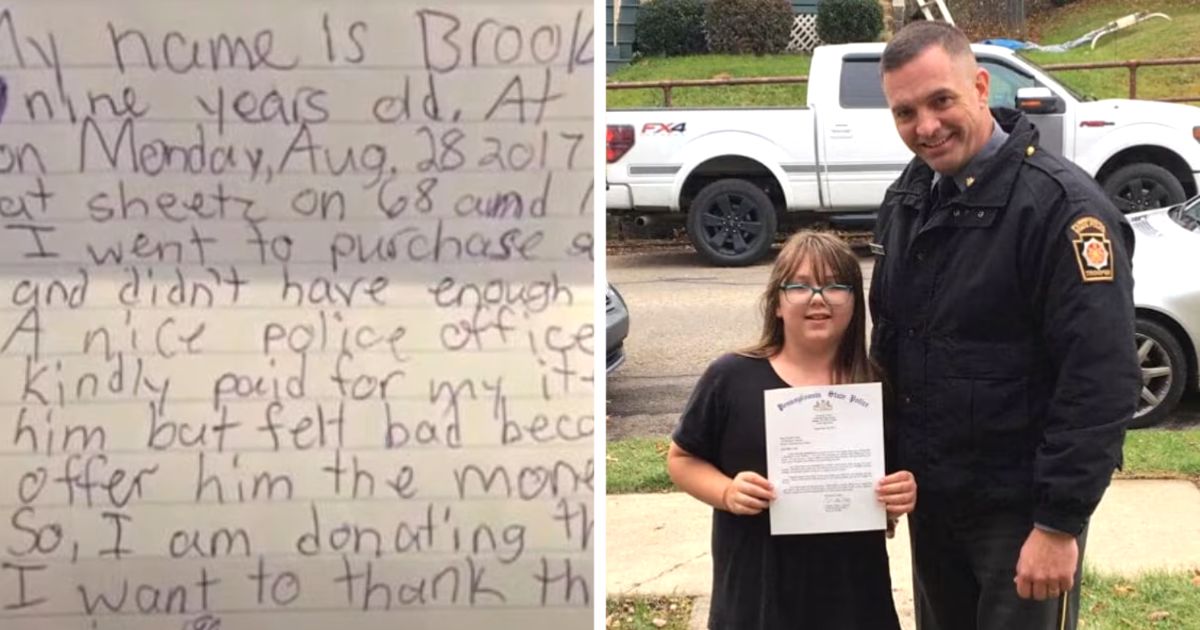 Yost thanked the officer but felt nervous talking to an adult stranger and quickly left the store with her donuts. But as soon as Brooke Yost reached home, she knew deep down in her heart that she couldn't just sit back and do nothing. She had to repay the officer for his act of kindness. She wrote a thank you note and tucked a $10 bill into an envelope, expressing her gratitude for the officer's generosity and her regret for not offering him the money she had.
The thank you note found its way to the hands of the kind-hearted officer, Chad Savannah, who had generously paid for Brooke's donuts.
The officers were deeply touched by her heartfelt thank you note and generosity. They wanted to show their appreciation for her kind act and rallied together to surprise her with a $50 gift card to her favorite toy store. Each officer pitched in and made it happen.
But the generosity didn't end there. With her gift card, Yost decided to give back even more by purchasing toys to donate to charity. The officers were touched by her kind-heartedness and wanted to show their appreciation by giving her and her family a special tour of the Butler State Police Station. During the tour, Yost and her family were not only treated to a behind-the-scenes look at the station but they were also presented with gifts and a delicious box of donuts as a thank-you.
Yost's act of generosity touched the hearts of the officers and led to a chain reaction of kindness. It's a reminder that even the smallest acts of generosity can make a big impact, and that by doing good deeds, we inspire others to do the same. Yost's mother, Beth Shaffer Yost, put it best: "We're trying to teach our kids right. That's all we're trying to do is teach them the right thing to do and to take care of what they owe for. We felt that she owed for their donuts."
Let this story be an inspiration to us all to pay it forward, to be kind, and to always look for ways to make a positive impact in the lives of others. It's a simple yet powerful reminder that the world can be a better place when we all do our part to spread kindness and generosity. So, next time when you see a kind act, don't hesitate to thank the person and spread the kindness further.