A 4-year-old girl who almost lost her vision and life to the flu, is much better after her family turned to God and prayer.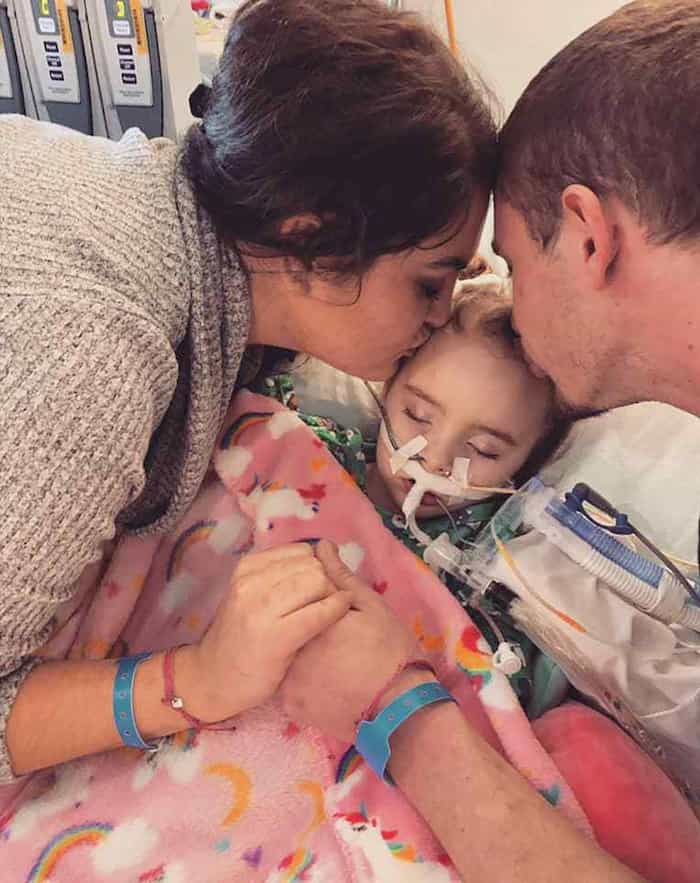 Today Jade DeLucia's parents are praising God for her miraculous progress, surpassing the doctors' expectations. But it wasn't easy for this family as their daughter was battling the flu and fighting for her life since it appeared days before Christmas in 2019.
She developed a cold which didn't seem to be anything serious. "She was still running around and playing with her sister, so I didn't really think too much of it," her mom, Amanda Phillips, said.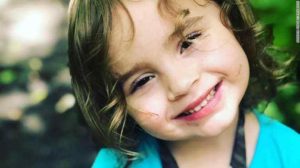 Things started to worsen and on Christmas Eve, Jade's parents found their little girl unresponsive. "I yelled at him," Amanda said when recalling how she and Jade's dad tried without success wake their sick child. "I was like, 'We have to go. We have to go to the emergency room. This isn't right. Something's not right with her'."
Jade was air-lifted to the University of Iowa Stead Family Children's Hospital where doctors prepared them for the worst. "I didn't think I was going to see her again at that point," Amanda recalled. "I really didn't. Just from looking at her, I really honestly didn't think I was going to see her."
She was put on life support in the Intensive Care Unit (ICU) and doctors revealed that complications from the flu were causing her life to be in grave danger. "She had a condition called acute necrotizing encephalopathy, secondary to influenza B," Dr. Theresa Czech explained.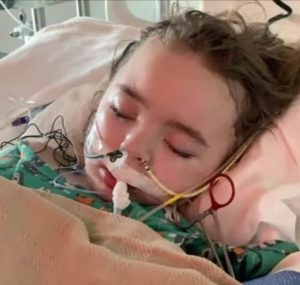 Jade was in coma and an MRI showed extensive brain damage and doctors too were losing hope, "If she wakes up, we may not have the same child," the medical team warned, according to an update on the GoFundMe fundraising page.
That's when friends and family jumped into action. One neighbor set up a fundraising page to help with medical bills, her grandmother, Courtney Frey, went online asking for prayers, a family friend set up the Facebook page Jade's Journey to request prayers, provide updates, and organize additional fundraising efforts.
You can never underestimate any health condition your child may be facing, "Love your babies and hold them dear. You never know what could happen," Jade's mom advises.
Jade was 11 days in a coma with friends, family, and folks from all over prayer for her continuously. One day, Jade woke up and whispered, "Hi mommy." Although she woke up and was alive, her battle was far from over as the flu robbed her of her sight.
But her family kept trusting God for the return of her vision. Some days later, Jade DeLucia was back home with her family and miraculously after 9 days, her sight returned, the family is praising God for His goodness to them.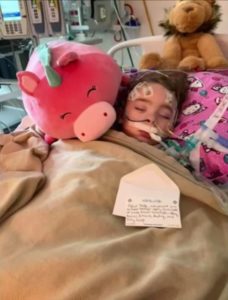 "I sit here this early morning and in awe and shock," Jade's grandma Courtney said. "I praise a God whose love has no limits for us all. Not only did a miracle take place for Jade but her journey brought thousands into the light. . . She is our reminder that we are all worthy to be whole, happy, and loved."
The family is also in awe of the way the family, friends and community worked together to help them in their darkest hour. "My heart is broken, yet all of you have held these pieces so they are not lost," Courtney said while Jade was still in a coma. "God truly has moved through you. For a miracle we pray but I am shown this morning that the miracle is already here."
Watch: Jade DeLucia Miraculously Gets Her Sight Back After Losing It Due To The Flu
Amanda took to social media to appreciate the prayer movement that went on for Jade, "While they didn't share my message of the power of our community and the huge international response of everyone who loved, supported, and prayed — know that we all felt it and I will always try to express it anytime I speak to anyone. My entire family is so humbled by your compassion," Amanda wrote on Facebook.
Courtney began receiving messages from strangers who've had their faith restored after hearing of all the Lord is doing in this sweet girl. "God's miracle for Jade restored my faith," Courtney says one woman wrote. "I can't believe I turned my back on God."
Jade's fight with the complications caused by the flu have not ended, as Courtney has asked for prayer saying, "It is becoming clearer that her little brain has suffered damage and her vocabulary is very limited and she repeats words."
Although Jade's sight has returned, she still shows signs of brain damage, but seeing all what God has done so far, the family hope and trust Him for complete healing for Jade. "We are continuing to believe and hope in her full recovery," Courtney says.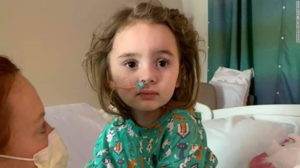 What a remarkable testimony of God's goodness and favor on the life of little Jade DeLucia. The little girl who was supposed to die, today continues to live and has her eyesight restored as well, we believe that God is a God of completion and will surely restore her brain completely just like before. Let's support this family with prayers for little Jade's complete healing in Jesus name. Amen!