Tim Tebow and Demi-Leigh Nel-Peters got married after a whirlwind engagement in 2019. The devout Christian couple tied the knot on January 20, 2020 as they said 'I DO'!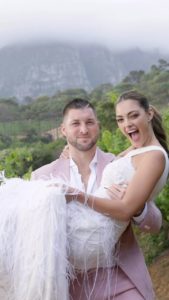 Tim and Demi have a deep relationship with God and are a huge inspiration for many around the world.
Tim is a previous NFL player and a current outfielder for the New York Mets under their minor league affiliate.
He is a Christian ambassador, an author and has recently started his own foundation, while Demi is also known for empowering women as Miss South Africa, Miss Universe 2017, and through her own charitable work.
Tim recently said, "I've been waiting my entire life for someone special, who I can spend the rest of my life with. I was waiting for the right person to come along. And now I'm marrying Demi. I can't wait to see what our future holds. All of my dreams have come true. It was 100 percent worth the wait."
View this post on Instagram
The couple wed at La Paris Estate in Cape Town in South Africa with 260 guests in attendance. The ceremony included both American and South African cultures and traditions and they had white, gold, green and black as their wedding colors.
"We're both very traditional. We wanted to look back at the wedding and see that it was intimate, elegant, and traditional. And we definitely wanted it to be something that we could look back on and know that nothing was dated. We want to remember this day for the rest of our lives," Demi said.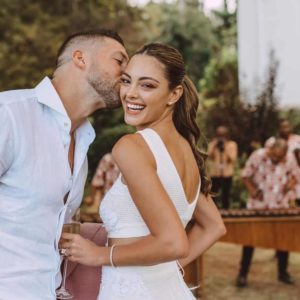 Tim Tebow said of their decision to get married in Demi's native South Africa, "Even when she was saying 'oh, we could be here or different states in the U.S.,' I could see it on her face that nothing would be the same if she wasn't home." We congratulate this beautiful couple on their wedding and can't wait to see all the wonderful things that the Lord has planned to do in their lives.