A little girl's friendship with a grocer at a Florida store has gone viral and led to her mom starting a charity. Fiona and her mother Rachel Smith are sharing their story to encourage others to show kindness and improve their lives.
There was always an atmosphere of kindness whenever Smith would visit the aisles of the Publix Super Market, in Fort Myers. She continued to go there for grocery shopping every Saturday even after Fiona was born.
It soon became her daughter's favorite place to visit after her friendship started with Gilnet the grocer who Fiona calls "high five."
"High Five"
From the first time, Fiona Smith met Gilnet, the two have always looked out for each other whenever she visited the store.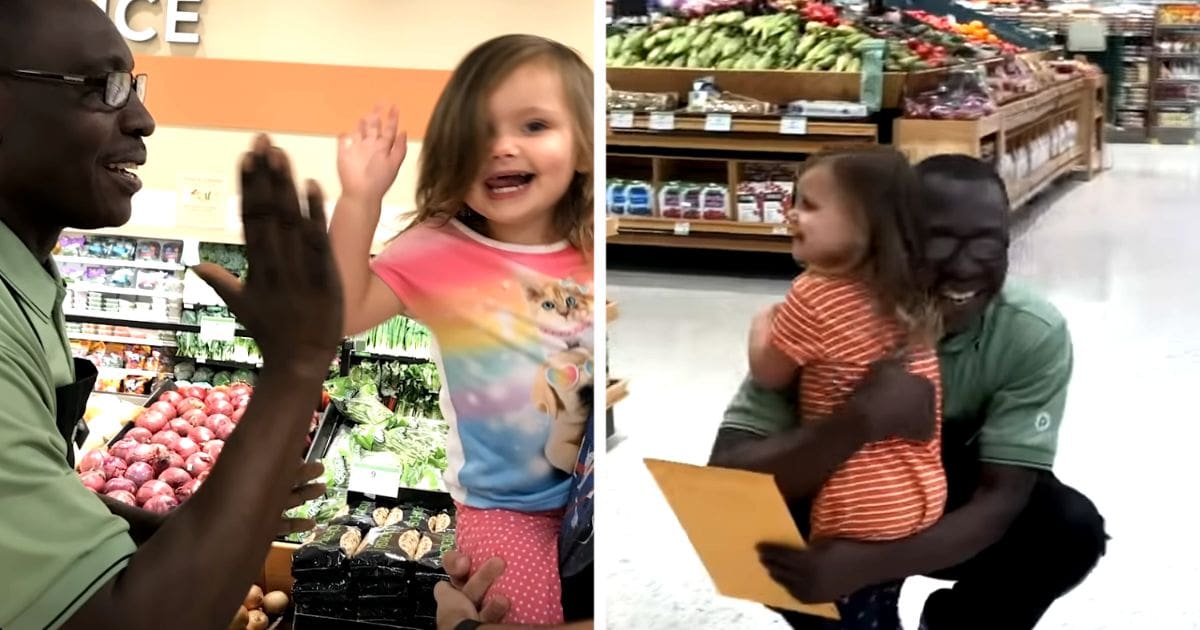 Sharing with GMA about her daughter's unlikely friendship with their grocer, she said, "From the moment I first brought her to the store, Gilnet was always excited to see her. I noticed her beginning to recognize him, and then eventually going out of her way to look for him," Smith said.
Smith recalls, "One of their first interactions was him trying to teach her a high five. For a while, she couldn't pick it up. But then one day, she figured it out. Then she started referring to him as 'High Five.' We'd show up at the store, and she'd sputter out an excited, 'hi fi' and tear off looking for him."
Birthday Surprise
Their hearts were warmed when on Fiona's third birthday, on March 8, 2019, Gilnet who is her parents' neighbor bought his little friend a present and delivered it on her birthday weekend, saying he hoped he wasn't "overstepping."
Smith said of the gift, "It was wrapped up in a box, so we didn't have a clue what it was until they brought it over to my house on her birthday," Smith recalled. "[Fiona] eagerly ripped it open and realized it was her very first bicycle. She loved it so much and wanted to say thanks to him by giving him some pictures of her riding it."
They went to the store to personally thank him and hand-deliver the thank you card and a big hug. "She calls him 'High Five' because they always share a high five," her mom explained. "He's priceless to us."
But the pandemic started and made them lose out on visits to the grocery store, Smith said they took a break on visits when COVID hit, and meanwhile, Gilnet also transferred stores.
But with everything opening up again and life getting back to normal, they decided to track down the store Gilnet was at.
Smith said, "I was finally able to track down his new location and I'm bringing her there today to say hello again to her dear friend," she said, adding that Fiona "hasn't stopped talking about it since I told her on Friday."
Flood of kindness
Smith has also decided to pay it forward by sharing about Fiona and Gilnet's friendship on Instagram and TikTok and people responded asking how they could help the Publix employee.
So Smith set up a GoFundMe for him, and wrote, "I'd love to give something tangible back to him for the joy he's given my daughter her whole life." In just 3 days' time, their goal of $5,000 goal was crossed by over $400 and she is planning to let the grocer know.
She wanted to let him know how he's been such a great influence on her daughter and also on others who have been inspired by his kindness. "I also want to surprise him by letting him know that he's inspired so many people to share stories of their own 'High Fives' who were formidable influences on them and their children," she said.
The mother and daughter have been so impacted by Gilnet's kindness that they are starting their own charity now, "I'm building out a small charity called 'Who's Your High Five' where people can submit stories about people who've positively impacted their lives the way he's positively impacted ours."
There's no telling how a small act of kindness can make such a deep impact on the lives of people, but that's such an inspiring story for all of us to never underestimate the power of being kind to people regardless their age and condition.