In a small corner of the world in New Zealand, a mother's loving concern for her son's birthday wish resonated through the hearts of an entire community. Ollie Johnson, an 8-year-old truck enthusiast who, due to health issues, found it challenging to maintain friendships, was facing a potentially lonely birthday.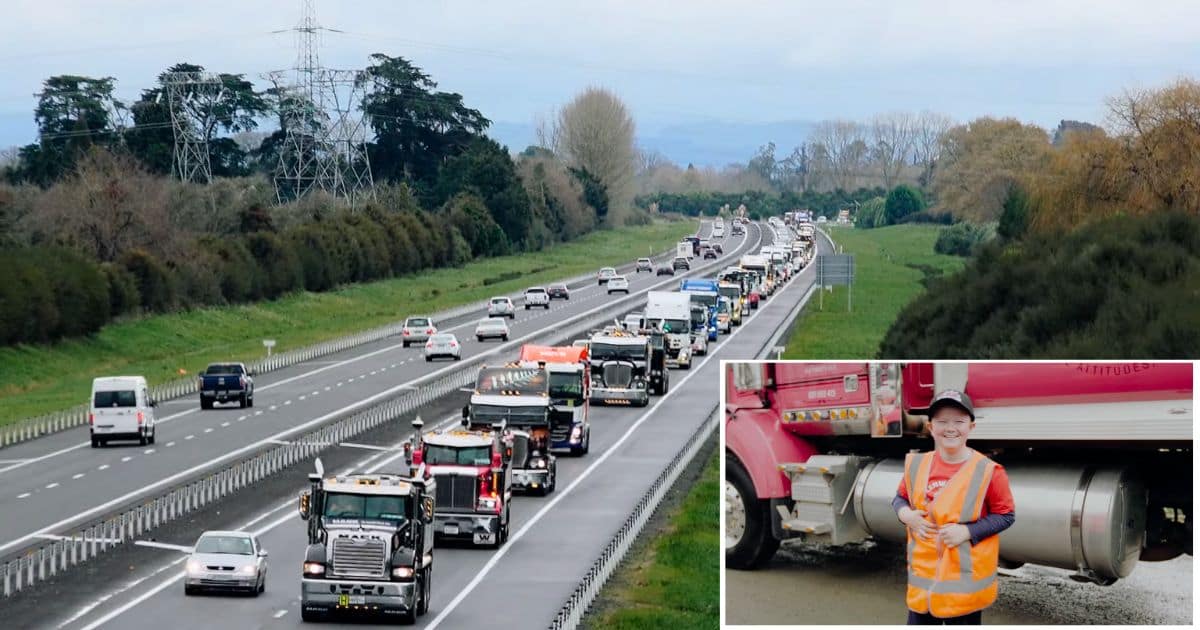 As every parent's hope is to see their child's heart filled with joy, Katherine Johnson, Ollie's mother, decided to bring her son's dreams to life. She knew of Ollie's love for trucks, how he could effortlessly name nearly every truck model and manufacturer. Turning to social media, Katherine posted on Facebook a simple yet heartfelt plea, "Looking for a truck driver to help a little boy. He has no friends, and no one to invite to his party," offering $50 to any truck driver willing to take her son on a ride around the block.
Little did Katherine know that her son's birthday was about to turn into an unforgettable extravaganza. Barry Hart, owner of Hart Haulage Ltd, saw Katherine's post and was immediately touched. He committed not just one truck but his entire fleet of 35 trucks to what became fondly known as "Ollie's Convoy."
Barry's decision sparked a wave of support. Truck drivers from all over New Zealand decided to join in, and the response was overwhelming. In total, an astonishing 65 big rigs showed up to celebrate Ollie's birthday. The convoy was so large, a police escort was needed to help manage the traffic.
Katherine was overwhelmed by the outpouring of love and support from the community. "I'm blown away by the community and the generosity of New Zealand," she expressed, moved by the collective efforts to make her son's day special.
As for Ollie, the birthday boy, he was overjoyed and expressed his heartfelt gratitude, "I want to say a huge thank you to all of New Zealand. I appreciate it very much."
"Therefore, as we have opportunity, let us do good to all people, especially to those who belong to the family of believers." – Galatians 6:10