A teenager from Canada was arrested from his school for trespassing when he returned after being expelled for a semester for his expressed belief about what the Bible says about gender.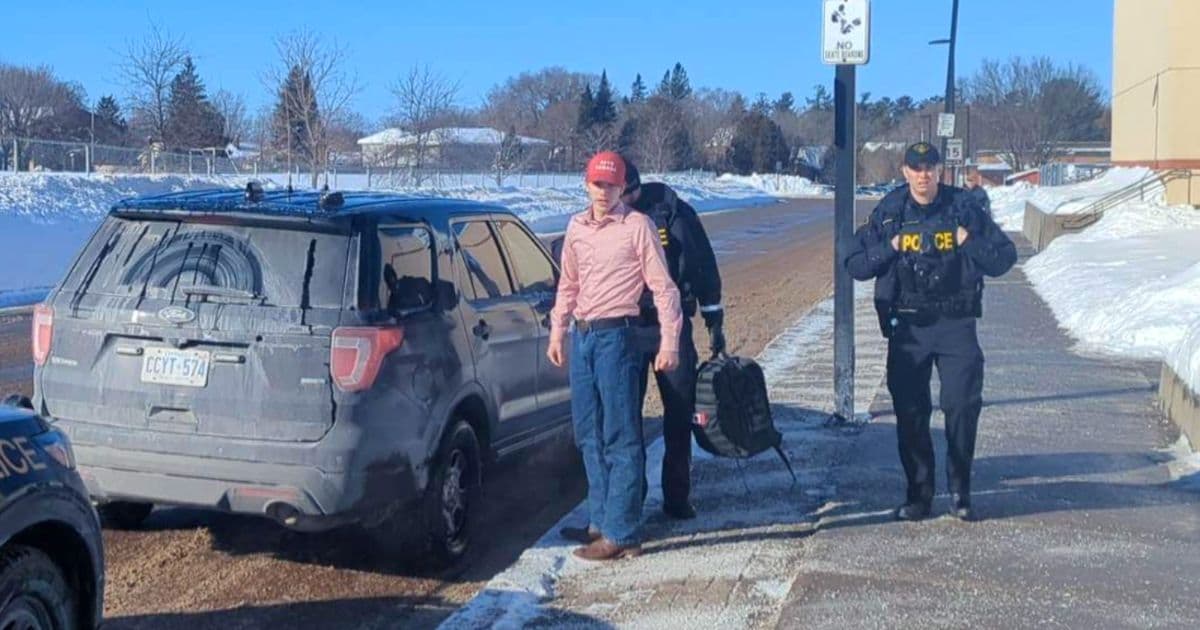 Josh Alexander, a 16-year-old is a junior at St. Joseph's Catholic High School, Renfrew, Ontario. He recently came to the attention of his school authorities for his beliefs and stand against the issues of transgenderism and gender dysphoria.
The teenager and another student had raised their concerns about males using female washrooms to the school's principal but it all fell on deaf ears.
"I said there were only two genders, and you were born either a male or a female, and that got me into trouble. And then I said that gender doesn't trump biology," he recalled.
In an effort to raise awareness about the issues going on behind closed doors, the teen teamed up with other like-minded students to organize a protest outside the school. But was issued a warning and ultimately expelled for his actions.
St. Joseph's Principal Derek Lennox allegedly imposed certain conditions on Alexander before he could resume attending school. Alexander was asked to refrain from using the "dead name" of any transgender student and to excuse himself from two afternoon classes. This decision was made as those two classes are attended by two transgender students who take issue with Alexander's religious convictions. "Dead name" refers to a transgender individual's birth name, which they no longer identify with following their gender transition. Josh stood firm in his belief and welcomed the expulsion rather than bowing down to the ungodly ideology.
When he returned for his 2nd semester, he was greeted by the police and school authorities and promptly arrested for trespassing. Apparently, "his presence in the school or classroom would be detrimental to the physical or mental well-being of the pupils [transgenders]."
When the teen was asked about his Christian faith and the role it plays in his life, he said, "Yeah, it's incredibly important, um I probably wouldn't be here today, if it wasn't for it and I recognize that our freedom of religion is under attack and like I said earlier, God's natural order is under attack, the family unit, in general, is being attacked from every angle and they're starting with the youth."
"I would say my faith plays a fairly large role in it. I'm not going to silence myself uh we're told to go into the world and preach the gospel and that's what I'm going to continue to do and yeah we'll see where that goes", he adds.
The 16-year-old said that he in fact sympathized with the transgender kids and believes that they were victims of society and the education system and expressed his anger against parents that have encouraged and pushed these ideologies on their children.
Furthermore, he expressed his concerns that freedom was in a jeopardy in the country. The teenager said, "Freedom once taken for granted is lost. Freedom of religion is probably one of our most important freedoms so I'm not going to surrender it in the face of persecution."
Let's pray for Josh, for the fight that is ahead of him in both legal and spiritual matters. And for God to open the eyes of the people to see the truth.
"Yes, and everyone who wants to live a godly life in Christ Jesus will suffer persecution." 2 Timothy 3:12 (NLT)
"For we are not fighting against flesh-and-blood enemies, but against evil rulers and authorities of the unseen world, against mighty powers in this dark world, and against evil spirits in the heavenly places." Ephesians 6:12 (NLT)