A young man was able to attend his high school graduation ceremony after his colleagues came to the rescue.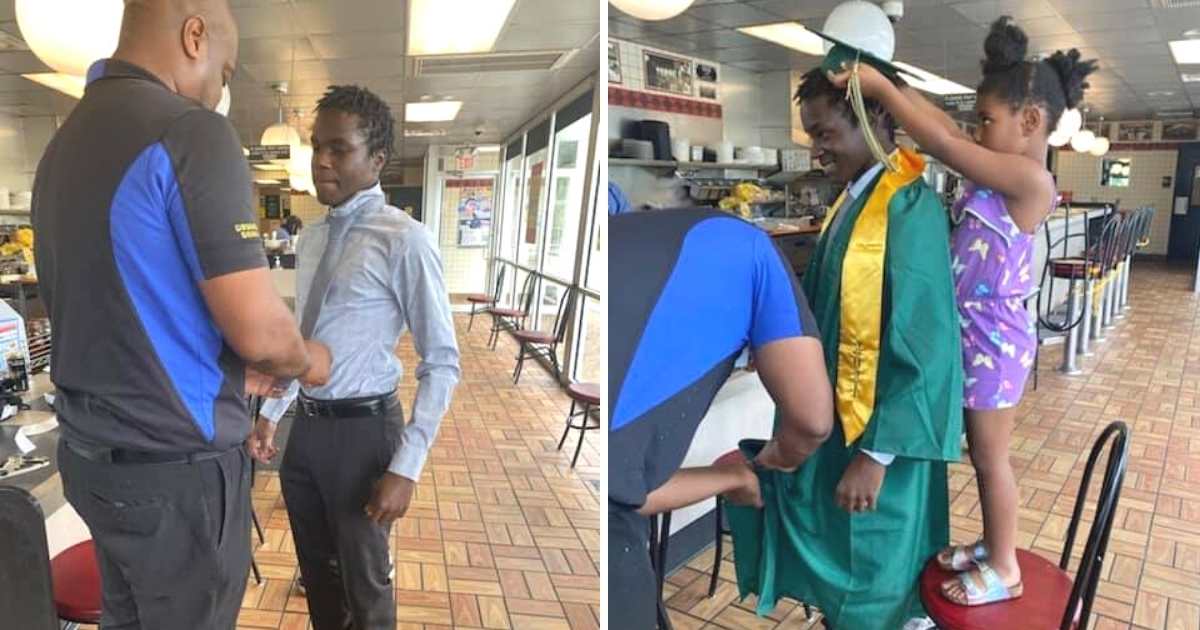 Timothy Harrison has been working at the Waffle House in Center Point, Alabama, for more than a month.
He was finishing up his senior year at Woodlawn High School in Birmingham when the heartwarming incident happened.
The 18-year-old has been through tough times and wasn't sure he would be able to make it to graduation. He did not even have a ride to the ceremony, turning up at work instead.
When Timothy turned up at work, his fellow Waffle House employees were baffled. "I thought you were supposed to graduate today?" Shantana Blevins pointed out.
The high school senior's manager, Cedric Hampton, echoed the confusion. "Why aren't you going to graduation?" he asked. "And he said, 'I don't want to miss work.'"
His coworkers ensured that he didn't miss an important milestone like this in his life and raced to get him to his graduation ceremony. The Waffle House employees helped buy Timothy's dress for the event.
They hurried out and bought him a shirt, tie, and nice pair of dress pants. Next, they rushed to the high school to grab his cap and gown. "When I put on the clothes, I don't even know the words. It was the best feeling," the high school senior recalled.
Shantana put Timothy in her car and drove him 20 miles across town to the high school graduation ceremony just in time! "To see his face when he came out, that was priceless," Shantana said.
Timothy Harrison has been touched deeply by this act of kindness and it has reminded him why he should keep fighting, even when life gets hard. "I had people want to see me succeed, so it kind made me excited," he said.
God had more surprises for Timothy. After his story went viral, Lawson State Community College offered him a full scholarship, even covering books, so the young man could continue his education.
"To know that I have a path to go somewhere? That's something new," Timothy said. This is such a good reminder to all of us that we should rise above pour differences and be kind to one another. "You never know who you can touch or who you can influence with one simple gesture," Shantana Blevins said.