The thought of saving a loved one's life by donating a kidney to them, would make people feel reluctant and unsure about it, and giving a kidney to save a stranger's life would be totally out of question, but not for this Virginia woman.
Crysti Shirley has done the impossible, she has donated her kidney to a total stranger and is being called a "guardian angel" by his family.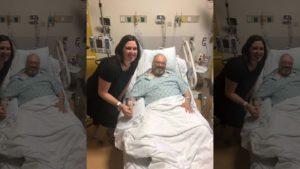 Maysa Munsey Slominski, cousin of the recipient says that if Crysti did not donate her kidney, they would be at the funeral of their loved one.
Jim Abed of Fairfax, Va, was desperately in need of a new kidney, he has been on the transplant list for the last 2 years, and has been having dialysis many times a week.
Slominski shared a post on Facebook against her family's wishes, hoping she could find a donor for her cousin.
It took a month before she received a response, Slominski's ex co-worker, Crysti Shirley, saw her post and although she knew her, she did not know Abed at all.
Crysti says that when she saw her former co-workers post, she felt chills all over her, as it was a desperate plea for someone's loved one to receive an O kidney.
She adds that she was sure in her heart that she had to give him her kidney, and cannot explain why she felt that way.
She got in touch with Slominski, who helped her start the process to find out if her kidney would be a match for Abed. After an extensive period of blood work, evaluations and tests, she was told she was Abed's perfect match.
Crysti says it felt like a true calling from God, and her faith in God was telling her to do it. She also said that Abed's doctors opined that his closest match would have to be a family member, but not a stranger.
The surgery took place at Johns Hopkins Hospital in Baltimore and Shirley said that it went off beautifully, and there was a sense of peace and no nervousness at all.
She stayed with her husband at a hotel near the hospital, and waited for Abed to be released from hospital. Both are recovering at their respective homes now.
She says that there is no need of any thanks as God had called her to do it. We praise God for Crysti's decision and pray there will be many more like her around.