19-year-old Zaid Gracia's wish to become a police officer came true when he was made an honorary police officer of the Houston Police Department last December.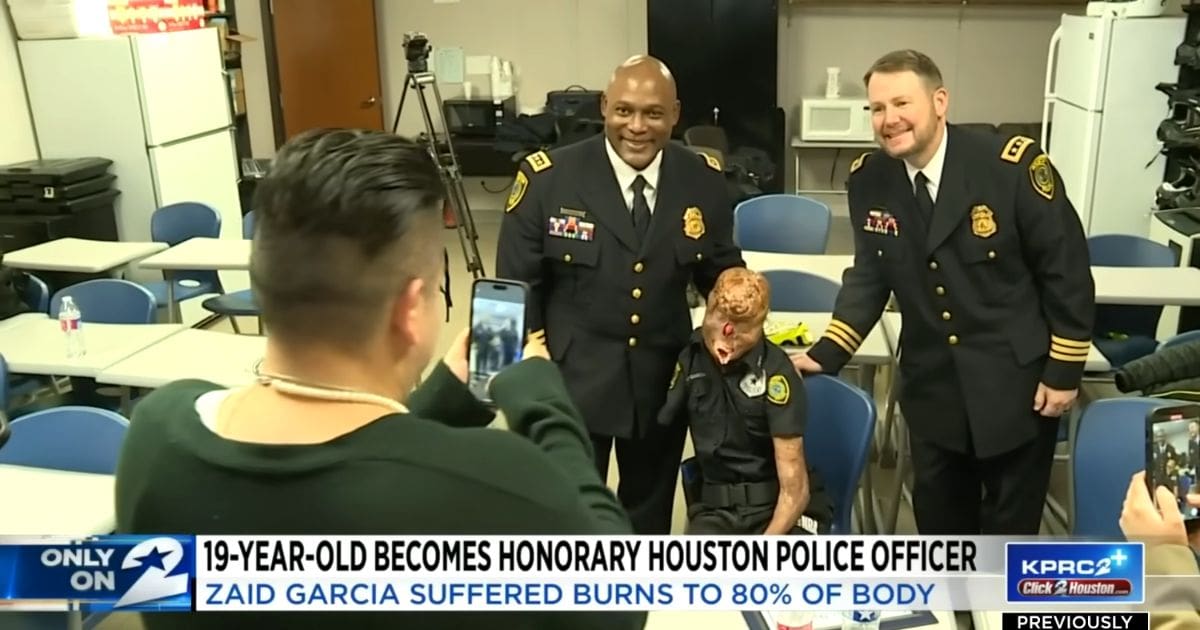 Zaid Garcia is a burn survivor. As a toddler, he was involved in a fire accident in which 80% of his body was burned when a candle fell and their house caught on fire. The accident blinded him permanently and he also lost both of his hands.
As a little boy, he had to endure many surgeries and faced great challenges over the years as he grew older. But the fighting spirit in him never dimmed or died, even once.
"It's been a hard path, but I healed, I want to inspire people," he said.
Garcia had dreamt of becoming a police officer since he was 10 years old but had never really believed that he would become one. However, it would take 9 more years for his wish to be fulfilled.
His dream finally comes true
When social media influencer, Isaiah Garza came across Garcia's story, he was inspired and wanted to help him fulfill his dream. So he tracked him down.
Garza says, "His mental willpower is beautiful and it doesn't stop him from wanting to be who he wants to be, everything he's been through, he still stands tall, and he just is such a brave human being and so much courage."
Garza, was able to get in touch with the Houston Police Department to help Garcia's dream be fulfilled.
Garcia spent a day at the academy of HPD doing everything an officer would; learning to make a traffic stop, clearing a room and taking down a suspect, meeting a K9 officer, and at the shooting range.
Later, he also got the opportunity to address the cadets at the academy. Sharing his life's story, he told them, "I ended up proving the doctors wrong, too, you know. They thought I could not make it, but here I am".
Trainee officers and staff were left speechless, visibly emotional, and in awe by the courage and brave spirit of the teenager as he shared his story.
"You make our jobs worthwhile and rewarding and I'll remember your testimony about wanting to be part of law enforcement for the rest of my life," said a prosecutor who was teaching the class of cadets to Garcia.
"Everybody who's come in contact and had the pleasure of meeting him today has left better than before they met him," said one sergeant.
Garcia was also given a junior police officer uniform and a certificate by Chief Troy Finner, who stated that it was a great honor to bestow on Garcia an honorary officer of HPD.
Garcia wants to help people and has a bigger dream of becoming a motivational speaker someday. His journey has only begun and he hopes to inspire more people in the future.
"In some way, you can achieve your dream," he said. "I may be different, but it doesn't mean that it stops me."
Garcia's story is a great example of a resilient spirit. It teaches us an important lesson of not taking life for granted, complaining less, and being thankful for what we have. And to never ever give up in life.