For many parents, having a still-born baby or losing a new born baby after birth, is always a crushing time and it could take months or years sometimes, to get over the emotional hurt.
Alexis Marrino gave birth to a baby girl, but the baby died tragically after some hours.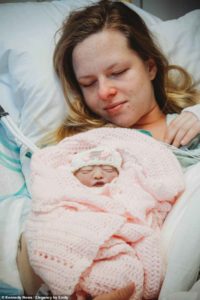 The grieving mom used God's purpose in her tragedy by donating more than 8 gallons of breast milk to provide nourishment for other struggling newborns in honor of her own daughter.
Alexis Marrino, 22 of South Dakota and her husband, Michael, 25, were ecstatic when they found out that Alexis was pregnant. But at the 20-week scan, the couple received terrible news from the doctors.
Their little girl, McKinleigh, had a rare neural tube defect called anencephaly which is fatal and the scan showed that she had no brain activity. They were told that the baby would die in utero or soon after birth.
Doctors gave Alexis and Michael the option of aborting the baby but they refused because they wanted to meet her in spite of her short time on earth. "I decided I wanted to see her and hold her so I decided to continue on with the pregnancy," Alexis Marrino said.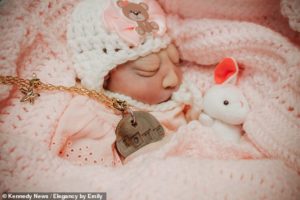 McKinleigh was alive for only 70 minutes before she died and went to be with the Lord.  "It was a really precious hour and ten minutes," Alexis said. "She was very warm and soft so I was glad that I got to hold her."
Even before receiving McKinleigh's deadly diagnosis, Alexis always knew she would breastfeed her child. But now since there were no chances of that happening, she decided to go on a powerful path to healing after her baby died.
She said, "I figured I had already planned on using it, so I might as well donate it," she said.
Alexis started pumping her breast milk the very next day to donate it to nurture premature and ill newborns which tough for her at the beginning.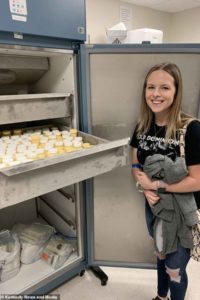 Alexis said, "At first, it was emotional, pumping breast milk after losing my baby. It was stressful and frustrating," Alexis Marrino explained.
She knew that there are many moms out there who have difficulty producing breast milk, and she wanted to help others as a beautiful tribute to her daughter.
"I just had to remind myself who I was doing it for and that got me through it," she said. "It is going to premature babies and babies who have difficulties when they are born."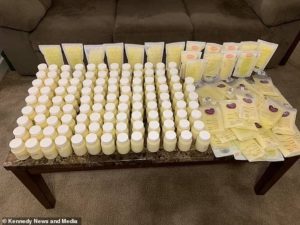 Alexis donated around 1,130 ounces of breast milk, which is more than 8 gallons! "I was shocked when I counted it all," the mom says. "People keep telling me it will help a lot of babies. I am proud of how much I managed to pump."
Alexis used her point of grief to channel it into a blessing for many. This is such a beautiful act of kindness by a grieving mother for other mothers out there.