An atheist Jew made a deal with Jesus telling Him, "So here's the deal. I will accept You when I'm on my deathbed," and ended up kneeling before Him. (Scroll down to watch the video.)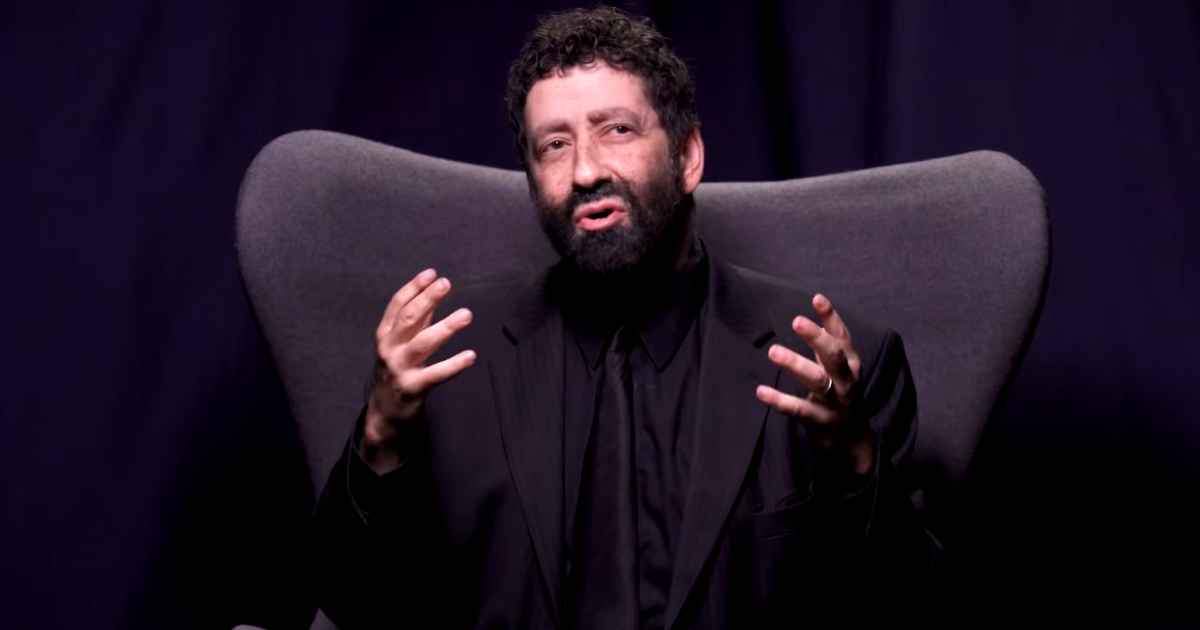 Messianic Jewish Rabbi Jonathan Cahn is a well-known name today in the Christian world but few know that it took a deal with God for him to come to Christ on his deathbed and God came through for him in a miraculous way when he met a deadly car accident.
Jonathan Cahn grew up in a reformed Jewish home and knew about David, Isaiah, Elijah, and the reality of God from Hebrew school, God was so real in the Bible, and spoke to the people and moved in their lives.
But Cahn doubted because "there was a big gap" between what he saw living God of the Bible and the God in the synagogue. "In the synagogue, I never saw anybody saying, 'Wow, God, He changed my life,'" he said.
"Further", he added, "It was more liturgy and more rituals. It was kind of like the echos of what once was. That there was once a glory but the glory wasn't there. The presence wasn't there. It was more of a cultural thing. People went to synagogue because they were Jewish. It was because of tradition."
And he concluded, "There was no sense of the reality of God. Or the assurance of God, or the presence of God. Or the life-changing power that's in the Bible."
He started questioning the whole thing as he didn't see the evidence nor did he know if God really did exist. He claimed, "I have to find God for myself. I have to find the truth for itself."
The Jewish people were taught that they can't believe in Jesus and the reading of the New Testament is strictly forbidden. But he started his journey of finding the truth about God and read every book he got his hands on like, science, religion, UFOs, occult, and every ideology he could read.
Until he read in a book about the reality of Jesus' existence. He found out about the prophecy of the Jewish Messiah in Micah, Zachariah, and Isaiah 53 and he tried to connect it but he couldn't deny that it all made sense. And then he read the forbidden book for the Jews, the New Testament. And there he found the truth.
But he resolved, "But I'm not following God, and didn't want to follow God. Because I thought if I follow God I have to join a monastery, become a monk. I thought you have to give up everything good or everything you enjoy to follow God."
So Jonathan fought God and made a deal with Him. He told Him, "I know I should follow You, but I don't want to. So here's the deal. I will accept You when I'm on my deathbed."
One night as he was driving his Ford Pinto heading to a train track, it was dark and was just after a snowstorm. The road was bumpy and he didn't know where he was. Suddenly, he saw a light on his left and other cars were crossing but he was on the track. The train came head-on, plowed into the car, and smashed the Ford Pinto.
The only thing Jonathan did was call out to God at that moment. That deadly accident became a powerful testimony because he didn't even get a scratch. "I said Lord that was so close. I realize that my life was so close, within inches of eternity. I gotta get right with God," he recalled.
Jonathan didn't know how to get right with God, but he remembered from Hebrew school how Moses and Elijah met God on a mountain. So he went on a mountain he had never been to before. He found a rock and kneeled down and said, "Lord, I'm Yours in the Name of Messiah. I know He is the Messiah. Come into my life. Cleanse me, forgive me. Make me new and lead me on. From this moment, I'm gonna follow You as Your disciple."
The first week itself he felt something different. "It was very gently, but it was real," testified Jonathan. He worked as a security guard when a cleaning man at a factory noticed that he was glowing. Since that time, Jonathan's life changed and today he is a Messianic Jewish Rabbi.
Jonathan Cahn challenges his viewers at the end of the video to seek God. "Seek for yourself. I was raised with a scientific outlook to research, see whether something is true or not. It's not about religion, tradition, nor what people told you. In the end, it's only gonna be about you and God. Seek and you shall find. Knock and the door shall be opened. Ask and it will be given. God is there to show Himself to you. Seek Him and you will find," he declared.
What a powerful testimony by Rabbi Jonathan Cahn who found God on his deathbed, we don't need to wait to experience a tragic situation to find Him, because the Bible says today is the day of salvation. 2 Corinthians 6:2 "For he saith, I have heard thee in a time accepted, and in the day of salvation have I succoured thee: behold, now is the accepted time; behold, now is the day of salvation."