A cute story winning many hearts online is of a backpacker travelling the world on a customized bike with him.
Dean Nicholson, 31, from Dunbar, Scotland, adopted the stray kitten Nala while in Bosnia. The cat now sits in the front basket of his bike as they both travel across the world together.
He cycled to Belgium, Greece, Switzerland and Italy before going to Croatia by ferry and travelling to Bosnia where he found the cat and adopted it.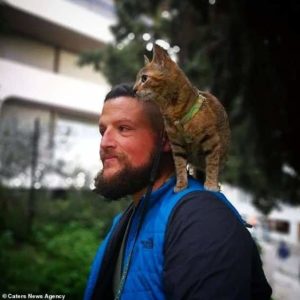 He began his journey last September after getting tired of his job as a welder, he started the journey cycling 200 miles to Newcastle and took ferry to Amsterdam.
His pet cat 'Nala' traveled with John to Albania and Greece and also has her own pet passport. The clip shows the cat sitting in the basket of Nicholson's bike as he pedals her across the world and also shows them locals and even having photographs taken of the two of them.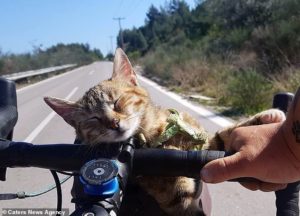 Mr Nicholson, is in Santorini, Greece, he said: 'I was going up a steep hill with my music blaring out of my speaker when I heard a desperate meow from behind me. When I clocked the kitten, I got off my bike to stroke her then that was it, she wouldn't leave my side. She was a wee, scrappy little thing and so far away from anywhere.
He further added, 'I wasn't going to take her with me at first, but I soon fell in love with her and I couldn't bring myself to leave her there alone. We've been inseparable now for the past four months. I named her Nala and got her a collar as well as a passport so she could travel with me.'
She sits with Mr Nicholson on the front of his bike in a basket, and gets a lot of attention as seen in the clips taken by Nicholson.
He added, 'Everybody loves her when they see her popping out of the carrier on the front of my bike and always ask for pictures of her. People even sometimes give me money but that might be because a I look a bit homeless at the moment as most of the time, I set up camp in random, quiet spots I can find, including some castle ruins.
He adds, 'It's pretty crazy; I've had people pull over in their cars and get out to come see her as well. Nala loves travelling and is super relaxed and chilled but she doesn't like going over cobbles – this is when she jumps out the box and sits on my shoulders instead.'
He has also set up a Go Fund Me page to pay her vet bills and bring her back to the UK with him.
He said, that he took her to the vet to get looked at and she was a bit malnourished, he has also got her micro-chipped too and she's been fine since.
Along with Nala, he has also been paying the vet bills for a stray puppy 'Balou' in Albania, but he could not keep the pup for himself and it has been living with an Albanian vet who has been updating him on Balou who has since found a family in London and will be moving there in a couple of months time.