In an astounding demonstration of strength, courage, and divine intervention, 13-year-old Gabriel Klimis found himself fighting off a monstrous alligator.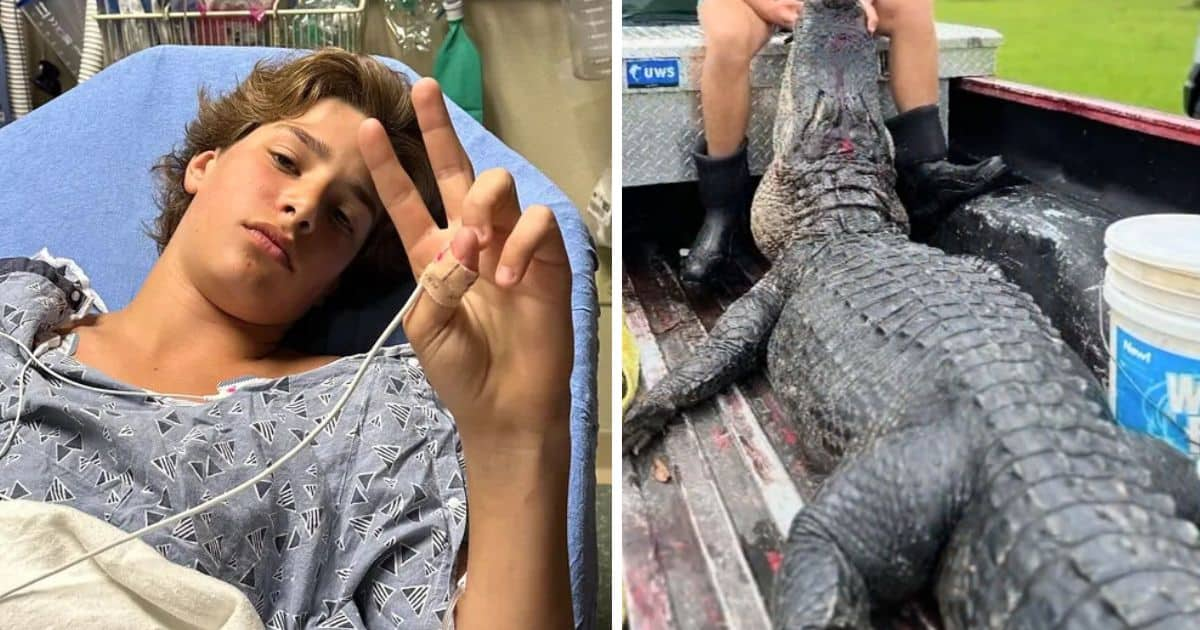 The teen was enjoying his time with friends near a creek in Winter Springs, Florida, after a refreshing swim. Suddenly, a fearsome alligator sprang into action, latching onto him. "I just felt something like tug on to me, and wrap its jaw around me and gain grip of me," the young boy recounted.
Gabriel's instinctive response played a vital role in his survival. "I just did what first came to mind," he stated. Not panicking, Gabriel grabbed a nearby stick, using it to leverage himself from the predator's grip. His focus: "Just try to get myself up as quickly as possible and make sure that nothing worse happens."
Escaping the Jaws of Danger
Thanks to Gabriel's quick thinking, he managed to escape from the clutches of the alligator, despite sustaining an injury to his hip. The gator eventually retreated and swam away, leaving Gabriel and his friends in shock. "He got up and we saw that he had a gator bite, and everyone was in shock. I was freaking out, and I was crying," Judah Klimis, Gabriel's brother, described the scene.
Amid the fear and shock, Gabriel had the presence of mind to call 911, leading to his prompt transport to the hospital. "It feels like good luck. I can still walk and stuff. And, I'm very thankful, because I could have not been here right now," Gabriel said, expressing his gratitude for his survival.
A Mother's Gratitude for the Miraculous Survival
The emotional toll of the incident became apparent when Gabriel's mother, Allison Klimis, learnt about the near-tragic event. She saw the photos of the giant alligator and realized her son's miraculous escape. "I just broke down crying on my lunch hour," she said. "When, also, I saw the pictures of the size of the gator that tried to get my son. And, I knew it was an absolute miracle of God that he's alive."
Allison echoed Gabriel's sentiments of gratitude, thankful that her son didn't lose any limbs or his life in the incident. She asserted, "In the end, I'm just blessed, grateful, thankful that the angels were watching over him and God was there because I know without that, my son could definitely be gone."
An Unwavering Spirit
Gabriel's ordeal has not deterred his love for swimming. He declared, "I guess I kind of learned my lesson, but at the same time, it's not going to stop me from swimming somewhere else, like in a different creek or something, with my friends and having fun."
The Klimis family is relieved and grateful for Gabriel's miraculous escape from the alligator's jaws, attributing his survival to divine intervention. His bravery and quick thinking serve as an inspirational tale of resilience, a testament to the power of faith and an unwavering spirit.
"Be strong and courageous. Do not be afraid or terrified because of them, for the LORD your God goes with you; he will never leave you nor forsake you." – Deuteronomy 31:6
Watch the miraculous story below.