We are so inspired by this story today and we know you will too. Rush Monday and Quinton Neal, are two second grade students from Reidsville, North Carolina, who are literally inseparable.
They dress alike and they spend a lot of time together, and are always there to help one another when one is down.
Unfortunately Rush got in a car accident, and when 8-year-old Quinton heard about it he was very worried for his best friend.
Rush's mom, Tara Monday, said that she was driving with her daughter and son when the devastating accident occurred in October.
"It was kind of bad weather here … And all of a sudden, a car crossed the center line and hit us head-on," Monday said. "It was the scariest moment of our lives. And Rush was injured the worst out of all of us."
They were taken to the hospital and put into different rooms. 7-year-old Rush had internal bleeding and had to be rushed into surgery. "Rush was feeling very scared and sad and defeated," Monday said. "He's only 7. He was in a lot of pain. And he didn't want to move, he did not want to get up and walk."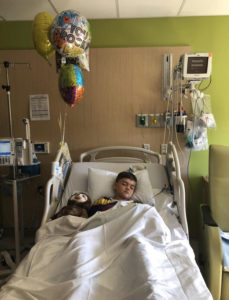 When Monday told Rush, that Quinton was coming to the hospital for a visit, he immediately perked up. "And he said, 'When Quinton comes, I'll get up and walk,'" Monday said.
His words came true, because when Quinton and his family visited Rush, the 7-year-old tried to fulfil his words and agreed to try walking again –only if Quinton would be by his side.
Rush was finding it difficult to walk and was hunched over, but thank God for Quinton who gave him the strength, and helped teach his friend how to walk again.
A video of the boys' walk down the hospital hallway together has since gone viral and is inspiring people across America.
Even though Rush is white and Quinton is black, and they also have a year's difference between them, it hasn't deterred their friendship and they're still best friends – or twins, as they say.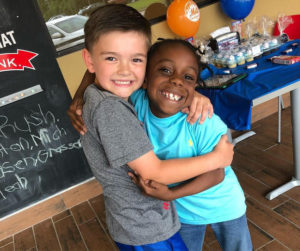 "They don't see in size difference, they don't see in colour differences. We don't see like that," Monday said. "And we want Rush and Quinton just to show the world, 'Hey, it doesn't have to stop when you're seven and eight. It can be like this all the time.'"
When asked about their unique friendship, Rush and Quinton said in unison, "we're brothers from another mother."