When a birth defect sent 2-year-old Branson Figueroa into surgery, he was gifted a puppy dog by his parents. But now the family discovered that the dog too has caught the same infection as the young boy and is getting support from all over the world.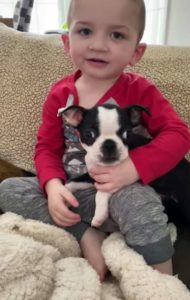 Branson Figueroa and his Boston terrier Thanos not only share a beautiful bond of friendship but also the same rare birth defect as well.
Parents of Branson, Heather, and Erik Figueroa of New Hampshire went through hell when their 2-year-old son had to undergo surgery because of craniosynostosis, where his skull bones joined together too soon before his brain was fully formed.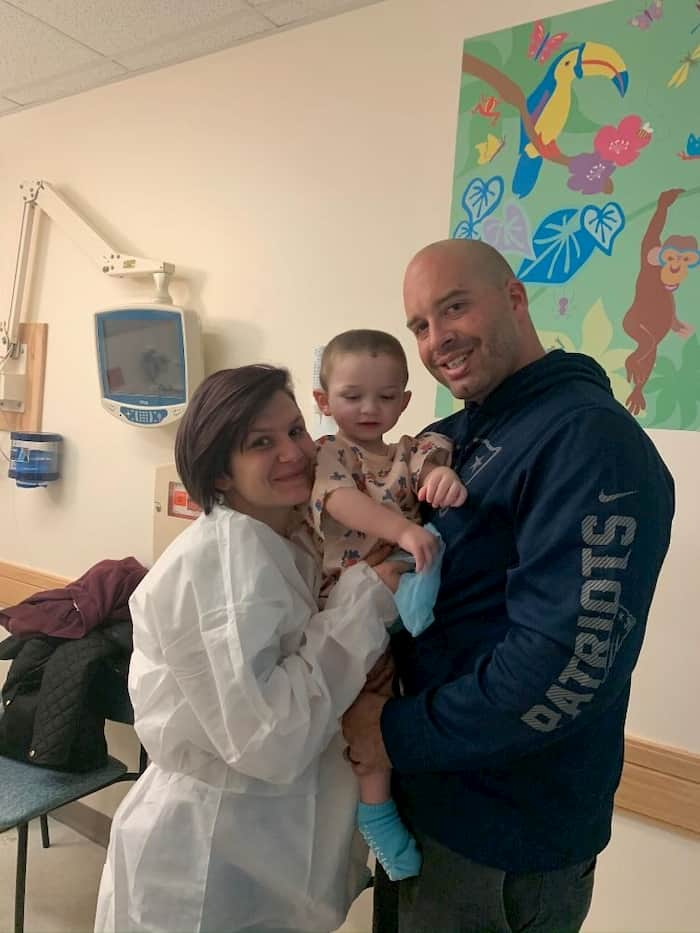 Doctors performed surgery on their baby boy which helped relieve pressure on Branson's brain, correct the formation of the skull, and provide room for his brain to develop properly. So, Heather and Erik surprised Branson with a Boston terrier puppy afterward as a reward for his courage.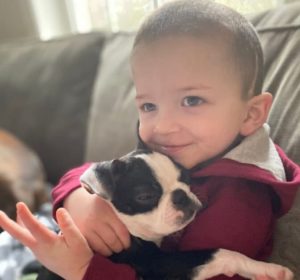 Branson named his new pup Thanos, after his favorite character from the Marvel Avengers movies and became best buds in a short space of time. But after some days, Heather noticed their new puppy displaying some odd symptoms.
"Thanos was sleeping a lot and was a little unsteady; sometimes he'd fall down while walking," she recalled. "He didn't like lying flat or tilting his head back, and my husband thought his eyes looked a little funny. So I took him to the vet."
The family couldn't believe it when the vet's office called saying Thanos needed some of the same treatments as their son. It will take quite a bit longer to get the official test results because of the coronavirus pandemic. But the veterinarian suspected the same rare birth defect!
"I felt awful," Heather said. "What were the odds?"
Thanos would need expensive treatment, and in addition to Branson, Heather and Erik have 2 other children. But they were determined to fight for their fur-baby. God used it as an opportunity to bless the Figueroa family in a special way.
Rileigh Champagne, a 22-year-old vet tech at the practice treating Thanos, saw the strain the diagnosis put on Heather and her family. And so, she decided to do something to help. She estimated that it would cost $13,000, between the MRI, genetic testing, neurologist visits, and surgery. So, she started a fundraiser online for them.
"I could see that Heather wanted to fight for Thanos – there's such a close relationship there between the puppy and her son," she said. "I realized that whatever the diagnosis was, Thanos would need some ongoing and extensive care, and that was going to cost a lot of money."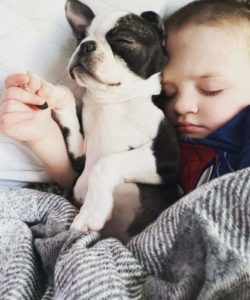 Strangers started sending amounts varying from $5 to $500, and also offered words of encouragement.
"Dogs are the best medicine and this little boy needs his pup!" wrote one woman. "Best of luck and lots of prayers to them both!"
The fundraiser exceeded the goal of $10,000 in no time. And the acts of kindness from so many strangers meant the world to the family of Branson Figueroa. "First our son and now his dog," Heather said. "For so many people to chip in what they could to help has really brightened our lives during a dark time."
This is such an amazing act of kindness that strangers did for this family, it has given them hope in God and helped them give the best treatment to Thanos.