Children with autism usually have eating problems where they consume a very narrow range and number of foods. 60%–89% of autistic children are selective eaters and find it difficult to sit for family meals.
Today one Texas mom has nothing but appreciation for a local Chick-fil-A for how it handled a unique breakfast order for her 8-year-old autistic son.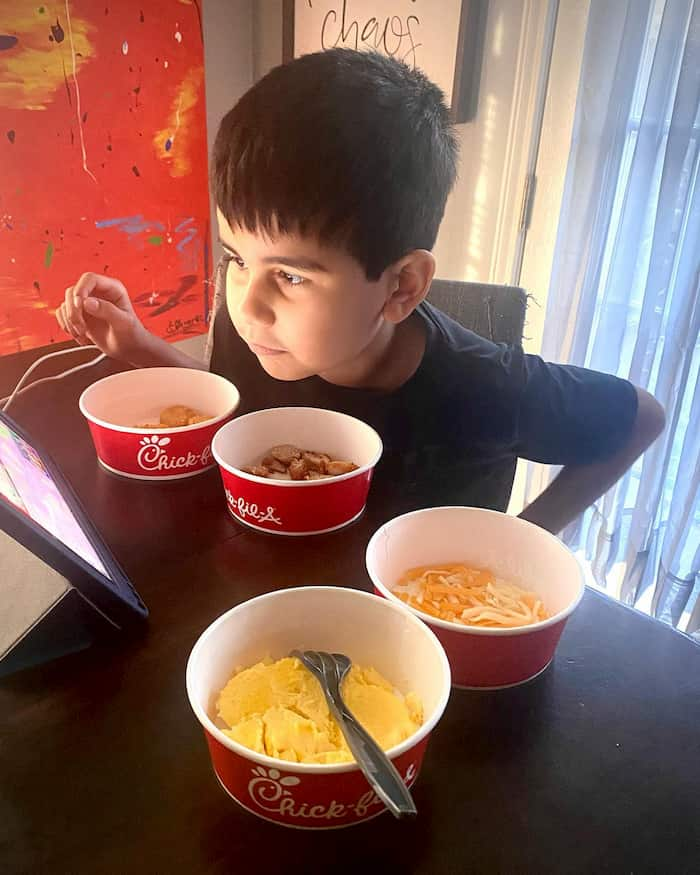 In a Facebook post, Marlee Olivarez wrote how her son, Matthew, went through the drive-through window at the Edinburg, Texas, Chick-fil-A, where she ordered a Hash Brown Scramble Bowl for Matthew. He doesn't like the ingredients to touch each other, and so Olivarez requested if the ingredients could be separately presented.
"Of course, Chick-fil-A gladly did it," Olivarez wrote on Facebook. "When getting to the window to pay, we waited a bit because they had to take the time to separate everything," she wrote. "The manager comes up and says 'Out of the many years I've been working for Chick-fil-A, I have never heard or seen anyone ask for this item separated. I'm curious, is there a reason why?'
"That was a perfect time to spread awareness and share how the mind and preferences of an individual with ASD [Autism Spectrum Disorder] work. I explained to him why & he was so glad I shared that tidbit. His response 'I am so glad you shed some light to me and the employees today and thank you all so much for coming. Please do not hesitate to ask for it like this again.'" Chick-fil-A placed each ingredient in a separate bowl.
The story has gone viral on Facebook with 7,000 shares and received media coverage as well, Olivarez labeled the post "Autism Awareness Post." Seh wrote, "Thank you Chick-fil-A Edinburg for politely asking and understanding something someone might see as annoying or inconvenient and making Matthew his breakfast in a way that he would eat it and not have an overload with the different textures," the mom wrote.
Sam Guardiola, who works at the Edinburg Chick-fil-A, said he was glad Olivarez spoke up. "She informed me that it was because of her son who's autistic, and he wanted to feel the texture of each individual item," Guardiola said.
"So, me being a father of three, I understood her completely. … It was more of a pleasure. I know Chick-fil-A is about guest service, customer service, and striving to do the best for our guest and so it was just something so natural to do for her. When she was so grateful for it, well, it just encouraged the whole team to do an even better job."
Chick-fil-A has been a combination of Christian symbolism and great customer service, which was the way S. Truett Cathy, the company's late founder, ran his company. From the first time, he started his first chicken-sandwich stand in 1967, Cathy openly incorporated Christianity into his business, from putting Bible quotes on sweet-tea cups to shutting down the restaurants on Sundays.