During this time of crisis and country-wide lockdown where even places of worship are closed, Christians are going into fasting and prayer petitioning the Lord to save the country from the coronavirus pandemic.
Recently star athletes came together on a conference call to testify about what God is teaching them through the pandemic.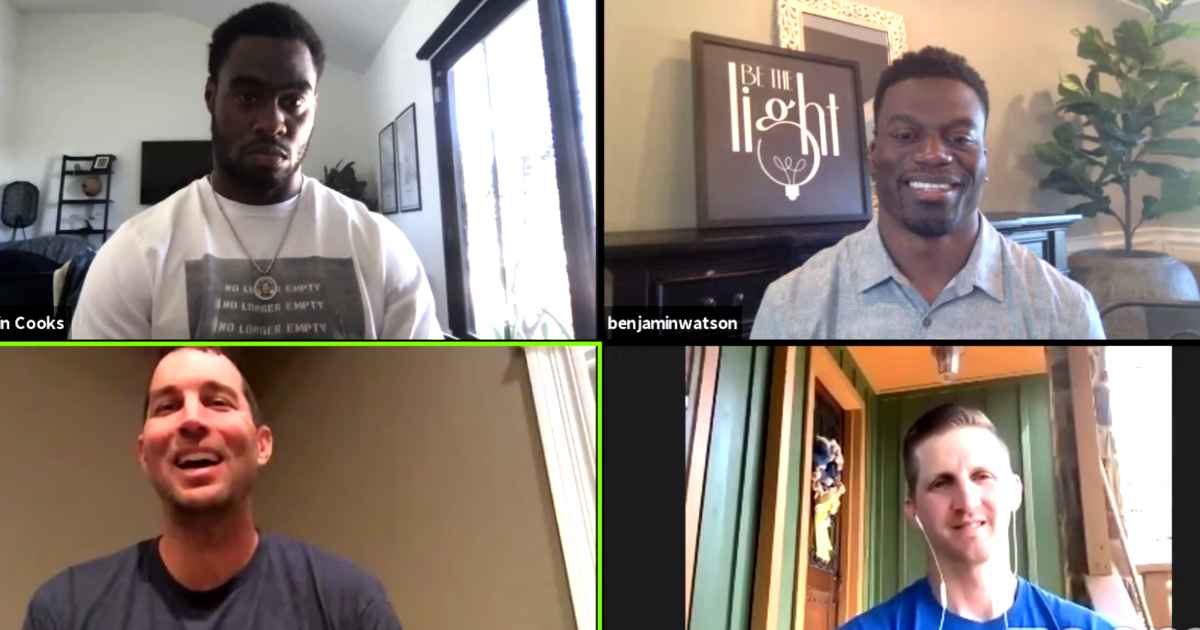 The "Huddle Up" was organized by The Fellowship of Christian Athletes (FCA) and hosted by NFL tight end, Benjamin Watson. It involved a discussion with NFL quarterback Luke McCown, Los Angeles Rams receiver Brandin Cooks, and St. Louis Cardinals pitcher, Adam Wainwright; all of them dedicated followers of Jesus Christ.
The players spoke candidly about the current situation, "We're looking for ways to respond in love, and ways to be the arms and feet of Christ," McCown said. "It's given us an ability to slow down and engage with our kids."
"As Christians, we are called to be the light," Wainwright added. "In this time, there is a lot of negativity around. This is time that we can spend encouraging others to make us look different."
They opened up about how this crisis has been positive for them, giving them a much-needed break from their hectic schedules so that they could spend time with their families and also build a relationship with God.
Watch: Christian Athletes Open Up About Their Faith In God During Coronavirus Pandemic
"This is intentional. God doesn't do anything by accident, even all the things that you read about in Job," McCown explained. "God either ordains or allows every circumstance or situation. He ordains it, meaning that He makes it happen. Or He allows it; He gives permission for it to happen. This is just one of those things."
"I can't help but think that we have gotten so busy in our lives, whether it's just going from ballgame to ballgame or ball practice to ball practice or [taking] the kids to dance recitals and this and that and the other, that there is an element that we are missing."
McCown argued that God is "causing everything to slow down" through the virus lockdown, noting that this presents his family precious additional time "to pull into each other and engage with one another" more.
Wainwright, said it was "neat" to spend more with family, but said that having five kids also meant that he needed to keep a keen eye on the pantry supplies during homeschooling hours.
"Trying to keep a schedule on the pantry is our thing," he laughed. "Like, no you can't eat all day long. We need to act like we're in school!"
"We've been playing basketball a lot," he added. "Social distancing away from everyone else… but as a family, we're barely under the 10 limit!"
LA Rams receiver Brandin Cooks said that he and his wife were working on Bible reading, "I've been challenged to lead in a better way. Going through a bunch of different books…like [studying] Nehemiah and his leadership. It's been awesome from that aspect because now she knows how to challenge me in a way that she didn't know how to challenge me before," he said. "I think this time has been very fortunate for that."
Wainwright urged the faithful to get used to the slow-down of life and start being grateful for the small things. "There are just so many distractions that pull us in 12,000 different ways all the time," he said. "This is the time that if we are going to make the most of a bad situation, we could use this to really settle down and get our priorities straight."
"We forget how important rest is and how important God makes the art of resting," Cooks added. "I think during this time right now, we need to figure out a way to rest. I am not saying lounge around. But I am more so saying rest and what it means to rest in His word, praying and getting that reset button and being restored at a time like this."
NFL executive vice president Jeff Pash said the organization was planning to commence a "full regular season and full set of playoffs," come September.
"Am I certain? I'm not certain that I'll be here tomorrow, but I'm planning on it, and we are planning on having a full season," Pash added.
What a different set of celebrities these are, we are so grateful for Christ-centered star athletes like them. May God continue to use them to influence their fans and millions of Americans all over the country.