A couple who had conjoined twins are sharing their story of how they depended on God every step of the way, right from the day they were born to the day when they were finally separated.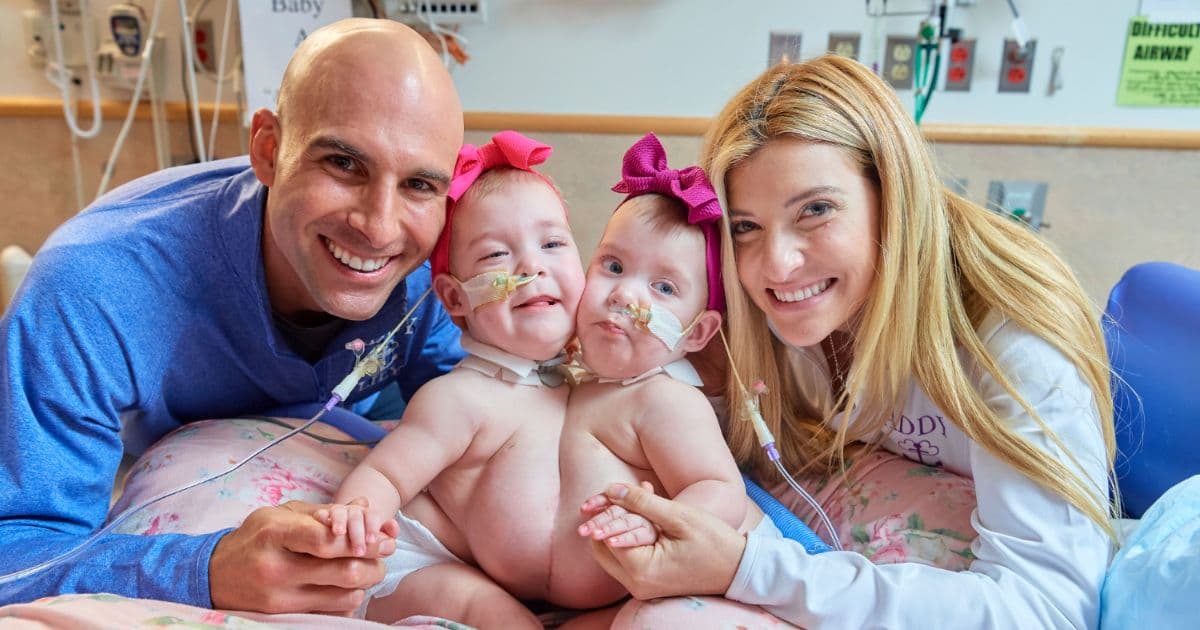 As parents of conjoined twins, Addy and Lily Altobelli did not know what to expect when faced with some terrifying news. But they didn't allow that to shake their faith in God and firmly held onto Him. Today, they are glorifying God and sharing their miraculous story with the whole world.
Maggie and Dom Altobelli were overflowing with happiness when doctors told them that they were soon going to be parents of twin baby girls when they went for her 20-week pregnancy checkup. But that happiness was short-lived because they were soon told that the twins were conjoined and shared a stomach.
Imagine what Maggie and Dom must have undergone when they heard that kind of news. But even though they were scared they knew that they had to trust God in this situation. "It was a surprise and it was very shocking," Maggie said. "But, we just thought that God gave us these girls for a reason."
The couple who lived in Chicago agreed to have their daughters separated by surgery at Children's Hospital of Philadelphia (CHOP) where doctors had experience in separating conjoined twins. it was going to be a long and difficult journey where the babies had to undergo many tests to check if the surgery was even possible.
God was at work and was making sure things were moving positively because the doctors wouldn't operate on the babies if their heart was joined, but thankfully that wasn't the case with them. But nevertheless, Maggie and Dom Altobelli were warned by the docs that it was still an extremely risky operation. "They said, 'Yes, this is a favorable situation. It's still a very high-risk delivery and surgery,'" Maggie said.
Holding on to their belief in God at this critical time, they even started calling their babies, Faith and Hope during the pregnancy. Soon the day came when at 34-weeks, Maggie gave birth to Addy and Lily Altobelli who brought so much joy into their parents' lives but started facing complications from day one.
Lily and Addy shared a chest and so when Lily, who was the larger one felt upset, Addy found it hard to breathe. "If Lily got upset … she would (control) the breathing," Maggie explained. "There were times where Addy had coded because she couldn't breathe because Lily would get upset."
The day finally came for the conjoined twins who were about to turn one, to be separated and Maggie and Dom who were perplexed by the very thought of it decided to completely surrender to God's will for their babies. Maggie recalls that day saying, "It was very surreal, just very emotional. The whole day was very peaceful and we kind of just gave it to God – and we've done that throughout this whole journey," she said.
Having experienced medical professionals at their side during the entire ordeal made it easier for them. Maggie recalled, "We're just so lucky to have surgeons who know what they're doing and really worked hard and cared for our girls like they were their own." The doctors operated for 10 hours on the girls and Maggie and Dom got updates every 2 hours.
When the surgery ended and they were given the happy news that it was successful and complete, it must have brought so much joy and relief to the hassled parents. "I just fell to the floor," Maggie said. "Everybody was just crying and sobbing. There was so much joy."
The twins had been successfully separated and now Addy and Lily Altobelli spent 2 months recovering in the hospital till the doctors gave them permission to go home. Soon the day came when they were separated and ready to return back home to their home in Chicago with their dad and mom. "We're so happy that they're home. It's just amazing," Maggie said.
Nothing moves Maggie more than the thought of seeing her daughters do regular things like relaxing at home watching TV in their living room. "I still cry to this day, just seeing the girls sitting in the living room and watching Frozen or any Disney movie. Because it's just that thing that you always hope for and imagine, and it's really indescribable. I can't describe how amazing it is."
Addy and Lily are still receiving physical, occupational, and speech therapy and are on feeding tubes at the moment but they are being trained to eat on their own and are just taking life one step after another. "This is our journey. It's a very special one in many ways," explained Maggie Altobelli. "These girls are going to live long, healthy lives. It's pretty miraculous and unbelievable that we're living this life."
We hope you have been encouraged and uplifted by the story of Addy and Lily and their brave parents who went through fire to make sure their babies got the best treatment and live their best lives. It reminds us of the love our heavenly Father has for us who daily protects us and keeps us away from all the dangers of life.
Nahum 1:7 The Lord is good, a stronghold in the day of trouble; he knows those who take refuge in him.