Governor Sarah Huckabee Sanders of Arkansas has decisively declined a request to remove a cross-inspired chalk drawing by her children on the grounds of the governor's mansion. The chalk drawing, which was met with a slew of appreciative responses after being shared on the governor's Facebook page, sparked controversy among some groups.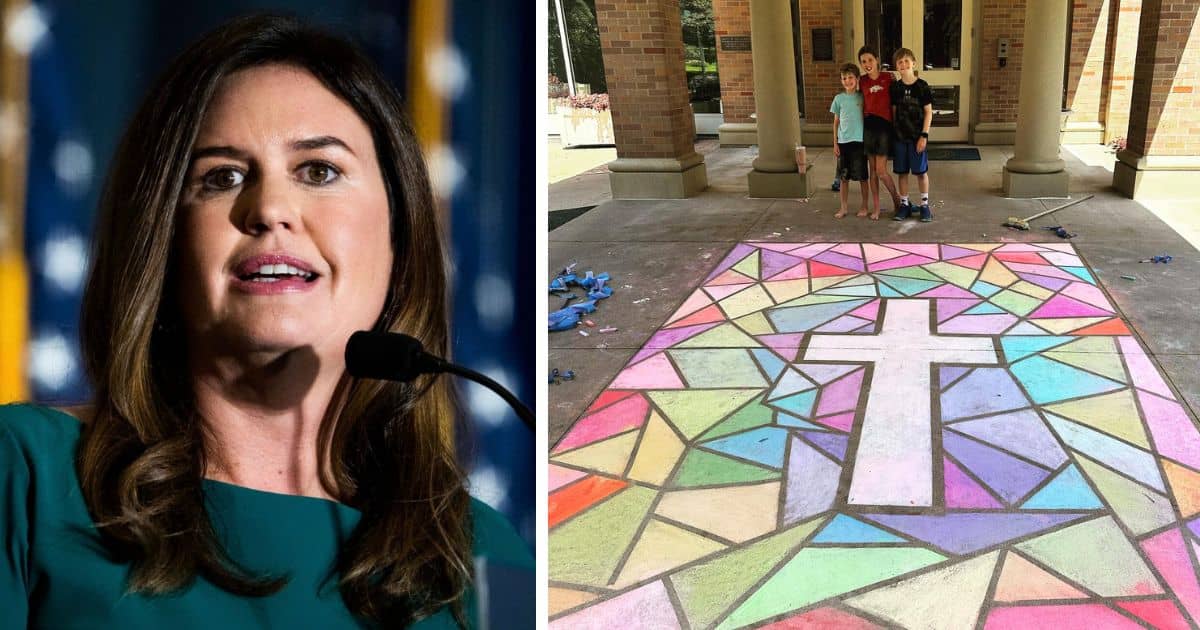 The Chalk Cross and Its Impact
Sanders, herself a Christian and daughter of Mike Huckabee, former pastor and Arkansas politician, has expressed her unwavering intention to honor her faith publicly. She proudly posted a photo of her children's colorful cross-shaped artwork on her social media, captioning it, "New artwork to welcome people into the governor's mansion!".
This announcement was met with a mixture of praise and protest. Activists from the organization Americans United For Separation of Church and State (AU), in particular, expressed their discontent, viewing the public display as a possible violation of the First Amendment.
According to AU, the chalk art display, which depicts a large Latin cross, could be interpreted as the promotion of "one religion over others." The organization addressed their concerns in a June 28 letter to Sanders. AU's stance is that while Sanders and her family are free to express their faith through "religious imagery" within private areas of their home, such images should not be allowed on the grounds or the entrance of a government building.
Firm Faith and the Freedom to Express
The Governor's response to AU's demand was immediate and unequivocal. Governor Sanders boldly declared her stance in a tweet and letter, refusing to remove the chalk drawing, an emblem of her children's innocent faith, from the driveway of the mansion. "I have received your letter and my answer is, 'No,'" the governor said, asserting her commitment to her Christian identity.
Her letter to AU emphasized her belief that the organization was misinterpreting the U.S. Constitution in arguing that it "prevents government officials, let alone their families, from making earnest expressions of religious faith."
The Courage to Stand Up
Governor Sanders went on to challenge AU's claims, arguing that they are requesting her to suppress her family's Christian identity. "You are asking me to ignore that truth and hide a crucial part of my identity and the identity of my kids," Sanders wrote. "That I will not do."
This poignant message underlines Sanders' unwavering commitment to her faith, her family, and the principles that constitute the very foundation of America. Furthermore, Governor Sanders made it abundantly clear that all people, irrespective of their faiths, are welcomed at the governor's mansion, emphasizing the importance of diversity and acceptance.
Ultimately, Governor Sanders' determination to uphold her Christian faith, even amidst a political storm, serves as an encouraging reminder to all Christians to stand steadfast in their faith. Her courage to take a stand serves as an inspiration and reaffirms that religious expressions should be celebrated, not censored.
"Therefore, my dear brothers and sisters, stand firm. Let nothing move you. Always give yourselves fully to the work of the Lord, because you know that your labor in the Lord is not in vain." – 1 Corinthians 15:58