When a freak Navy SEAL training accident left David Charbonnet paralyzed from the waist down leaving him doubting his faith, God had to step in to give him a new purpose in life.
David was brought up in a Christian home and his dad, Mike Charbonnet, was a retired Navy SEAL and pastor.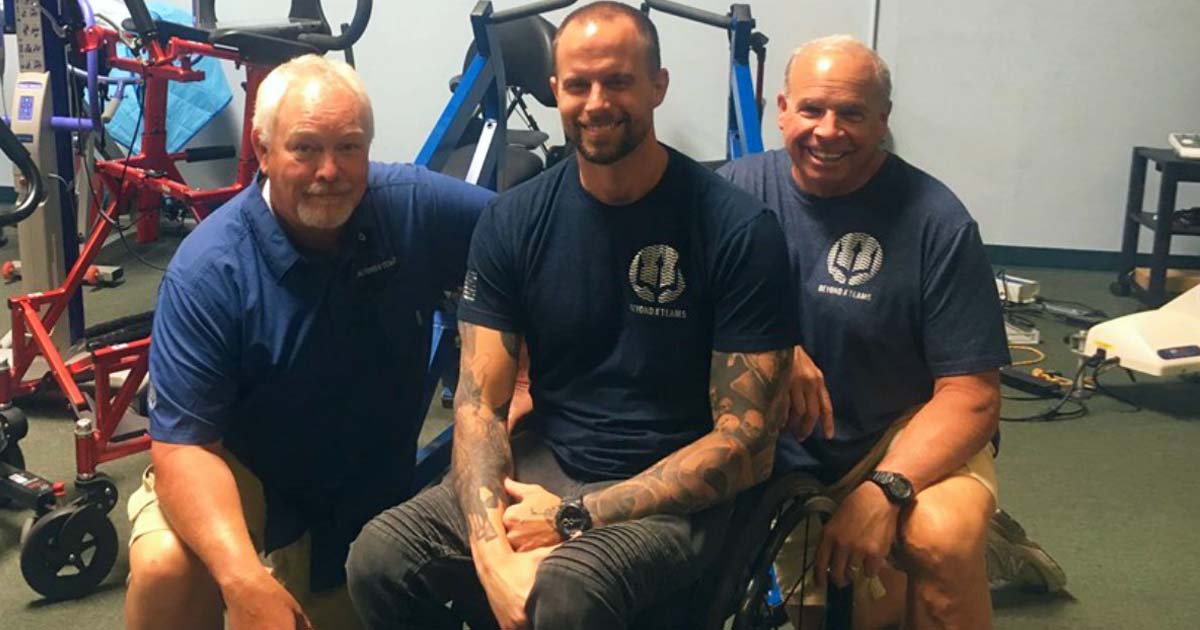 David accepted Jesus at a young age, and wanted to serve the country, just like dad.
He joined the Navy SEAL program and everything was fine. "I always assumed that if I followed Christ and did all the right things that good things were going to happen — things were going to go my way," David recalls.
This mindset of many Christians gets shattered later on as Jesus warned that following Him was not going to be easy in John 15:18-25.
David was doing all of the Navy SEAL training requirements very easily, "I thought, 'Wow. I found what I'm supposed to be doing — I found God's purpose for me'," David recalls.
Along with that he never stopped reading his Bible, sharing the Gospel with others, etc. But in 2011, David and some friends went skydiving right before his first deployment and something went wrong with David's parachute on the second jump.
He had a 80-feet fall which broke his back and left him paralyzed from the waist down. Now all his dreams of being a Navy SEAL were shattered and David began doubting God's will for his life.
"I started to wonder if God really did have my back — maybe there isn't any real order or purpose for me in this world," he said. "I really started, for the first time in my life, to question my faith."
David Charbonnet said it was the biggest trial in his life, and as he faced uncertain days, God was about to reveal that He had never left David's side!
David was battling with his faith, but Janet, his future wife, kept reminding him of God's truth. "Even if you don't really know that God loves you and has a plan for you, He does," she told him.
We often feel that "good Christians" would never doubt, hurt, and question God, but having faith doesn't mean we can't have those feelings, we can't be weak. It means making the choice to say, "I trust you God," in spite of those feelings.
And David did just that. He made the choice to keep leaning into God's word. It spoke to him about God's purpose in 2 Corinthians 12:9 which says, "'My grace is sufficient for you. My power is made perfect in weakness.' Therefore I will boast all the more gladly about my weakness, so that Christ's power may rest on me."
God didn't turn a blind eye towards David's suffering, but had a bigger purpose in all of it. "Now, I am by any measure, weaker," David says. "And God is using that for His purpose."
David was being treated and rehabilitated at the VIP NeuroRehabilitation Center in San Diego.
The clinic was dedicated in helping disabled military, veterans, children, and others who've suffered brain or spinal cord injuries or other debilitating conditions like stroke, multiple sclerosis, and cerebral palsy.
The dedicated staff and medical team at the center really helped bring back joy and purpose in David's life, "It made a huge impact on me during a super-difficult time," David Charbonnet said.
But the VIP was failing financially, and begged David Charbonnet, the former Navy SEAL to take over as president of it.
David was hesitant at first as he felt he wasn't qualified to be the president, but his love for the center made him take the job and recruited his wife as well to help him, they both work there without pay.
"I felt that there was a need for it," he says. "And if I didn't do it, nobody else was going to." David and his wife, Janet, serve at VIP today, where he is a big inspiration to all those around him.
Fellow VIP board member, Dana Moore said, "Watching day to day how hard he would work with all the nerve pain that I know he goes through from his injury, gave me no excuses not to strive to work as hard as he does."
Seeing David and Janet do all that they can for VIP, Mike decided to do something as well.
So in 2018, Mike drove his bike from San Francisco to San Diego in order to raise finds for the VIP, and never expected that the trip would lead him to start his own non-profit.
While he was telling friends about the ride at the 40th-anniversary reunion of his Navy SEAL training class, many wanted to do it, and that led to 'Beyond the Teams.'
The group made up of Mike Charbonnet and four other former Navy SEALs, is focused on raising funds for "unsung heroes facing physical disabilities and cultural disadvantages."
Although these five grandfathers may be a lot older and slower than their Navy SEAL days, but they have it in them to still get the job done. Mike says it reminds him of the movie with Clint Eastwood and Tommy Lee Jones, "Space Cowboys", when they all get together.
"It's these geezers, trying to get together to pull something off," he says.
The military "geezers" of Beyond the Teams will complete a 1,000-mile bicycle ride down the East Coast from October 29 to November 9.
It will be to support the VIP NeuroRehabilitation Center so that it can help others facing dark times just like Mike's son, David Charbonnet.
"We have a lot of equipment you can't find anywhere else in [the] area," he said, explaining that patients fly in from all over the world.
With support from his father and other retired Navy SEALs, this is an incredible part of God's bigger plan for David Charbonnet.
"I've heard stories about them [Mike's SEAL team] since I was a little kid. Those stories inspired me to be a SEAL myself," David explained. "To have them come full circle to get behind this clinic trying to help people that are in need, together as a team, with my dad and with me, it means a lot. I can't express how humbled I am."
David Charbonnet's life testimony is nothing what he imagined for himself, but God stepped in to the bigger picture and led him to be a light to the suffering and destitute at VIP and to the whole world.