A newly retired mail carrier got a send-off to remember, after working 20 years on the same route.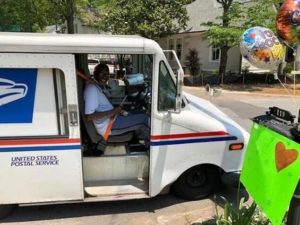 There were hundreds of people who lined the route he traveled daily, to throw him a party.
Floyd Martin has been a mail carrier in Georgia since 1985 in downtown Marietta, and the residents there have come to REALLY love him.
"He's really part of our family," Sarah Bullington, a resident for 11 years says, "He's just really special."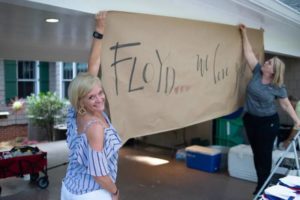 Martin bonded with the people who lived there and became friends with many over the years.
Martin said, "They would invite me to dinner. [On] holidays, they would try to make sure I wasn't alone. They bring gifts to me. If my truck broke down, which it did, they would come out to check on me. They were there for me," he said.
So when they got to know he was retiring a couple of months ago, they planned to send him off in style.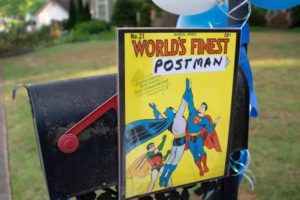 "I knew we had to do something big," said Becky Poole, who has known Martin for about 25 years. "I had no idea it was going to be this big."
There are 500 people who reside on Martin's route, and each and every one of them were to be a part of the celebration.
They decorated their mailboxes for Martin's last day and came for a potluck party.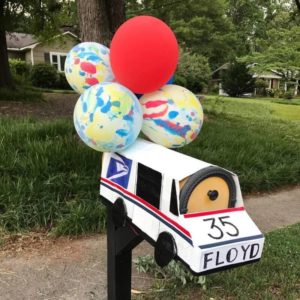 Bullington said that they had a meeting on her porch at night with some of the ladies and they planned to we kind of devised a plan to divide their neighborhood into zones, where they would walk their dogs and stuff mailboxes with flyers to let people know what they were going to do.
They were not sure about how many would participate, Poole was worried it would be smaller than hoped for.
She said, they were not sure how many would decorate their mailbox, while walking about, she thought participation on their street wouldn't be great.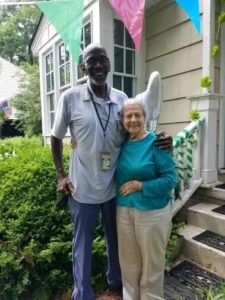 But while driving back two hours later, she saw that everybody had decorated their mailboxes.
It was fitting to give him a grand send-off for touching lives with his kindness.
"I don't remember the moment we first met Floyd," said Bullington. "But probably the third year we were there he had made enough of an impact on our family that my 3-year-old daughter wanted to dress up as Mr. Floyd for career day at school, and then he came to her birthday party."
Lots of the "mail" Floyd picked up today was hand-delivered. "My people are so good to me," he said. "I'm going to miss them." pic.twitter.com/e6Mi8WctZl

— Jennifer Brett (@Jennifer__Brett) May 22, 2019
Martin always celebrated their birthdays, births, holidays, sports victories, and graduations.
"He gave every one of my kids a graduation gift. Whenever one of them graduated, he would put $20 in the mailbox," said Poole. "It was just him, he loved our kids."
He not only loved human beings but also loved neighborhood animals, he would pet cats and bring treats for the dogs.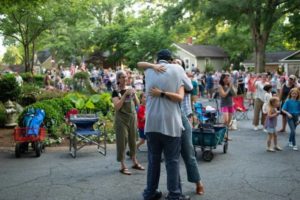 The neighbors trusted him more than just being a mail man.
He would comfort those in trouble and give them a huge Floyd hug and make them feel better.
He was kind to the elderly people on his route, when Poole's mother was suffering from multiple sclerosis, and would fall frequently, Martin helped her on two occasions to get up.
Kids on his route love, love, L-O-V-E Mr. Floyd. Little Mae Bullington dressed up as Mr. Floyd on the day her school had career day. "I was so flattered," he said. "It touched my heart." pic.twitter.com/BbeT3AlhHp

— Jennifer Brett (@Jennifer__Brett) May 22, 2019
Amanda Seals, 45, a neighbor has been praising Martin since her college days.
"My grandmother has aged," said Seals. "She has dementia and her vision is very, very poor, but she knows who Floyd is."
Seals says a photo the two took together "will help her with her long-term memories that she does have."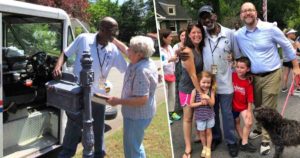 Martin said four other postal workers helped him complete his route on Thursday.
But still he was late to the party as many residents wanted to talk to him.
"Everybody erupted in cheering," when he arrived, said Bullington. "Not a dry eye."
Martin said, it "Brought me to tears," he said. "I'm a crybaby. I show my feelings."
350 people of all ages showed up at the party according to Bullington.
Update! People on Floyd's route decorated their mailboxes to surprise him on his last day pic.twitter.com/7vo8Gepv2s

— Jennifer Brett (@Jennifer__Brett) May 24, 2019
"You see this group of sullen teenagers line up when Mr. Floyd walks by. Teenagers!" she said. "They don't like to do anything, but they all showed up for him last night."
"It's a very hard job. I did not have that postal pace when I first started. It took me a while to get it and I got frustrated," he recalled. "I called my mama said, 'I can't do this.' She said, 'Hang in there, baby.'"
He said that whenever he wanted to quit,. he remembered those words. So he kept on and went full force, 100%. He wanted to be the best at it, and he did.
Here's a short clip of Floyd next to one of the mailboxes decorated in his honor. He could have taken an easier job at the post office over the years but didn't. "I could have left them a long time ago but I wouldn't, because I love them." pic.twitter.com/SOaIf3wBYr

— Jennifer Brett (@Jennifer__Brett) May 24, 2019
"We're just very thankful for his years of public service," said Seals.
"A lot of people can leave that behind and go into the private sector and have an air-conditioned office and whatnot," she said. "It takes somebody with a true servant's heart to do what he did for as long as he did, and we're grateful for that."