The 18th season of American Idol opened up with Garbage man Doug Kiker belting out an incredible version of 'Bless The Broken Road' by Rascal Flatts with judge Katy Perry welling up.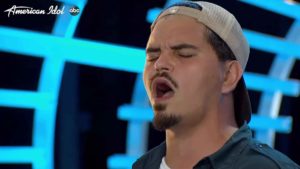 This latest season of American Idol has seen talent pouring in to it from all directions of the country, as contestants are vying to win the coveted ticket to Hollywood. Among the front-runners, Doug Kiker is a promising contestant so far. He works as a garbage man by day, and has no formal training or experience singing in front of a crowd, and judge Lionel Ritchie had to encourage him to warm up his vocals before beginning his audition.
Doug was a bit confused, but thanks to host Ryan Seacrest he was ready in fifteen minutes. Doug returned to the stage for his big moment and without any musical backing, he belted out the lyrics to 'Bless The Broken Road' from country group Rascal Flatts. The minute he started singing, everyone saw that he was a star in the making. Judge Luke Bryan even emerged from the back of his desk to back him up on the piano and coach Doug on a few notes.
Their impromptu duet brought tears to fellow judge Katy Perry as all three judges knew that there was something special about this young man and as they gathered around to give Doug the good news, Katy gave him some powerful words of wisdom. "You just stay who you are and you're going to go so far." He is a talent to watch out for in the music industry that could change his whole life.