One man is on a mission to build benches for bus stops after seeing a woman sitting on the dirt waiting for the bus. James Warren's life was transformed after a walk in his Denver neighborhood exposed him to the plight of bus commuters who don't even have a place to sit while waiting for a bus.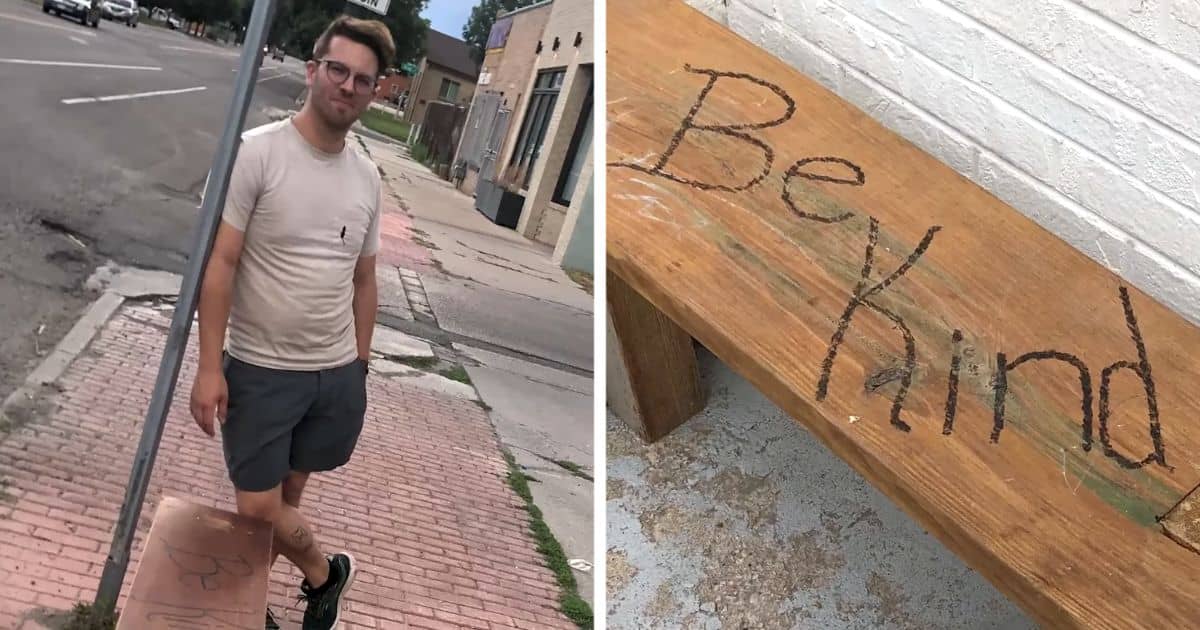 He decided to do something about it and build a bench to help his community. He used scrap wood from construction sites in his neighborhood. He knew the basics of wood work because his dad builds homes, and he has all the tools needed to build a bench at his home.
So, he finished one bench at the beginning of the year and placed it at the same spot he had seen the woman sitting on the dirt. He has since finished building eight benches and all of them have been placed at bus stops near his location.
All the benches look different because James uses scrap wood to make them. "I just kind of let the wood speak to me," he said. It takes a few hours to build a bench and then he places them at bus stops without sitting areas. "I have not asked the city yet whether I'm allowed to do this … Until they stop me, I'll just keep doing it, I guess," he said.
But what is similar in each of the benches is the message that James stencils into them: "Be kind."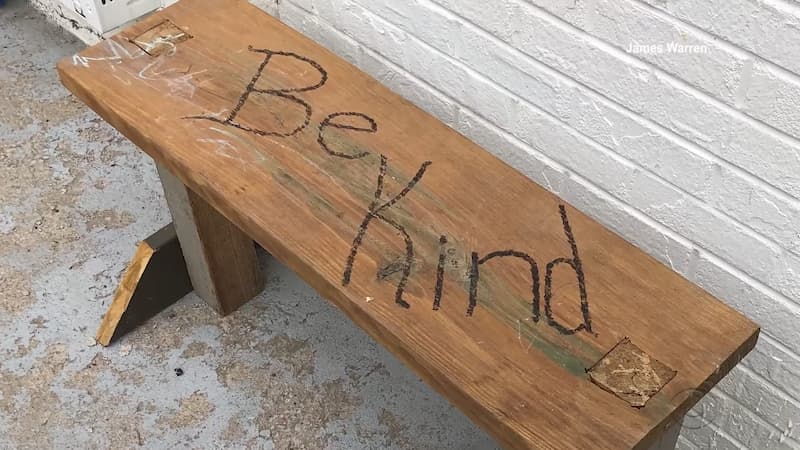 He says, "Sometimes it's difficult to really make a change in the world around us, or it can feel really difficult to change the world around us. But the truth is, anyone can be kind. And being kind can make a difference in the world around you. And that difference matters a lot. So, maybe just a little reminder to people," he said.
Many people who have used the benches in the community have reacted to James about his act of kindness. "What's been really cool is seeing other people online building their own benches or even just taking chairs they were going to throw out or that somebody else was throwing out and putting them by bus stops instead of letting them go to landfill," Warren said.
James feels motivated to keep doing what he's dong after people come up to him and tell him how inspiring he is. "Because it's cool, it's no longer just one dude doing something for his neighborhood, it's dudes and dudettes all over the community doing things for their neighborhoods. So, it's really inspiring to see that."
James Warren is an inspiration to everyone in the Denver area and beyond and hopes people in other cities too will follow his example.