This sure was a pizza party like none other, at McKinley Elementary School in Watertown.
At the end of the school day, students and staff come to the playground area and form a block-long greeting tunnel.
The students have come armed with signs and costumes, even as a police escort managed to surprise their classmate 9-year-old Javier Amos.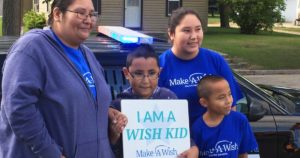 Javier has been diagnosed with leukemia and is currently in remission, he was granted a wish from the "Make A Wish" foundation.  He did not wish for a trip to Disneyworld or something like that, but what he wanted was a party for his school which included pizza, zoo animals, bounce houses, laser tag, and other games.
Jo Evenson, who heads "Make A Wish," South Dakota, attended the event, he says he hasn't seen anything like this before.
The school students partied for two-hours before going home in their school buses. Javier's wish was granted by Dacotah Bank in Watertown.