The Bible says that in the end times, God will speak to His children through supernatural signs and symbols from heaven, and it seems like that is truly happening these days.
There are many online videos of people who have experienced a sign or symbol from heaven, and it is truly uplifting to see and read about them.
Recently in February, a rainbow was seen in the sky over the Marjory Stoneman Douglas High School, after that terrible incident of shooting that took place there. Probably it was a personal message from God to his children, that He was with them during this tragic time and that He loves them.
This isn't the first time a rainbow has appeared after an event like this one, either. Nor is it the first time God has seemed to make his presence known when it's most needed.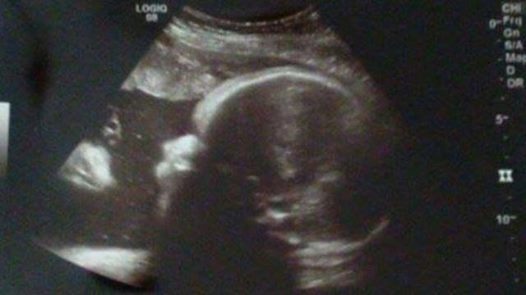 God cannot be limited and He can show up anywhere, and that's what happened with a couple's ultrasound photo taken in 2017 showed their unborn baby, and an image of Jesus wearing His crown of thorns, standing to the left side of it looking over the baby.
Can this be a figment of imagination or true? Well if you are still not convinced then read below about a viral video shared by Keith Barthold in 2017.
The viral clip shows his son taking water baptism in a pool and was being videoed by a person who got a good view of the highway as well as the baptism ceremony. As Keith's son Landon was being dipped into the water, a truck with the name "Jesus" written over it passed by exactly at the same time.
Are these messages from God or a figment of imagination? There is no doubt that all these incidences show us that it is indeed God who was present in all these people's situations and is telling us that He is fully in control of our lives even today.
My son Landon just got baptized!!! Watch the highway right before he goes in the water!

Posted by Keith Barthold on Sunday, July 9, 2017