The novel coronavirus pandemic has upset people's livelihoods and the economy in such a way that people are finding it difficult to pay their mortgage and rent, but there are some kind and considerate landlords who are not only waiving rent but also helping their tenants with food and supplies.
One such landlord is Nathan Nichols who not only gave his renters a break, but also encouraged other landlords to do so as well.
"COVID19 is going to cause serious financial hardship for service and hourly workers around the country," he posted on Facebook on March 13. "I own a two-unit in South Portland and all of my tenants are in this category. Because I have the good fortune of being able to afford it and the privilege of being in the owner class, I just let them know I would not be collecting rent in April."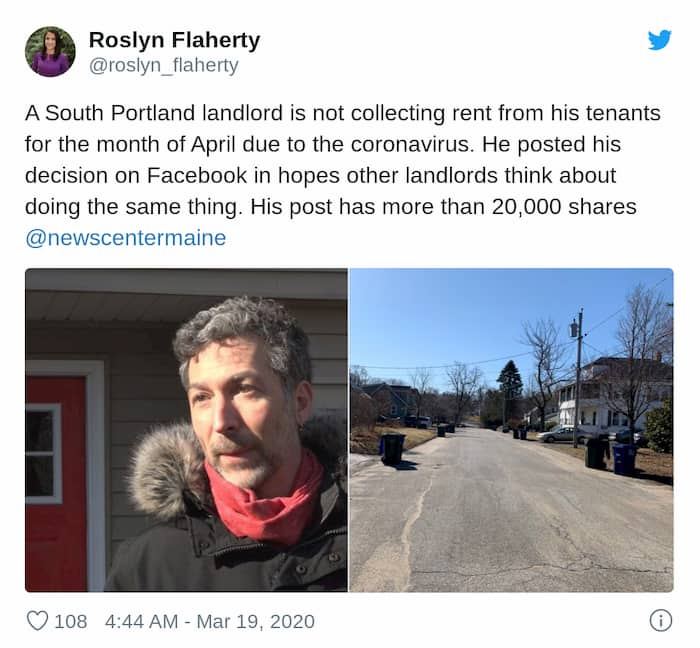 He appealed on social media to other landlords, "I ask any other landlords out there to take a serious look at your own situation and consider giving your tenants some rent relief as well."
Landlords too have to live and pay their own bills and depend on the rent payments for that, but there are many relief programs available, and some have decided to do good to their tenants during this difficult phase.
One landlord 'Alan,' has gone beyond just suspending rent, he also spent his own money to ensure they had food.
Christina Marie is a mom of four in Saginaw, Michigan, and she shared on Facebook how she was surprised when she found out Alan wouldn't be collecting rent for April. "SOOO My landlord Alan called me earlier and told me not to worry about rent this month and we will worry about it later," she posted on April 6. "[I] said okay!"
But he didn't stop there, "Than he asked me if we had food I told him how I had 3 packs of meat left and needed to go this week and he told me okay be safe. Than I get a text saying go to your front porch please !!! And I see this I couldn't tell you how I feel right now," she wrote, adding a photo of the groceries he left her. Milk, potatoes, fresh and dry goods and diapers: He covered it all.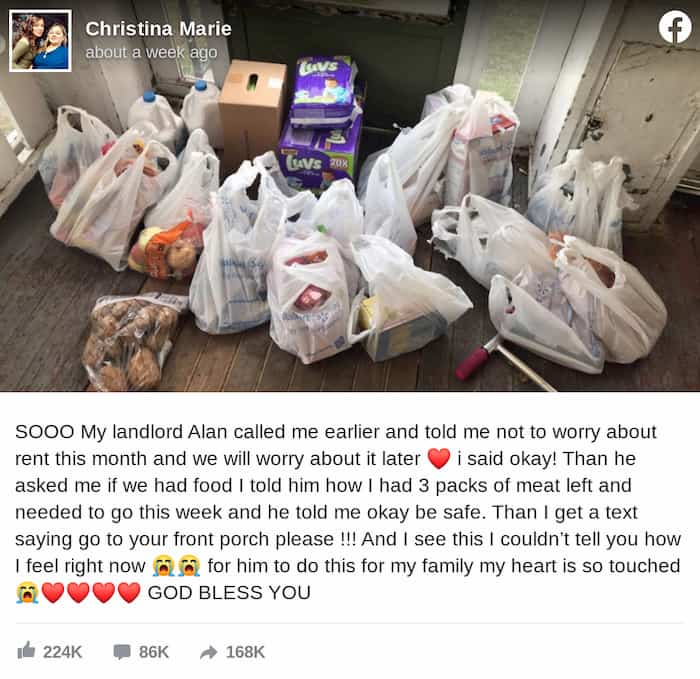 "[F]or him to do this for my family my heart is so touched," Christina wrote. "GOD BLESS YOU."
That's such a wonderful gesture by landlords during the coronavirus pandemic, we all have to do our bit for our fellow human beings so that life can be a little easier.