Shame was keeping students away from attending school regularly and this high school principal decided he was going to do something about it.
After noticing students being bullied for their dirty clothes, and their attendance dropping he decided to install a new laundromat in the school.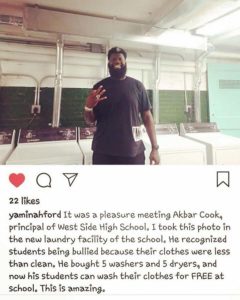 So come September 4, the new free laundromat for students will be set up in the school premises.
West Side High School Principal, Akbar Cook said that a lot of his school students faced bullying as they didn't have clean clothes to wear.
Students would poke fun of those who wore stained clothes and even took pictures of them to harass them on social media.
So he secured $20,000 in funding from the PSEG Foundation and converted the football locker room into a laundry room, complete with 5 washing machines and 5 dryers.
After news of what Cook had done for the students in the school appeared on social media, the community poured in their support by donating laundry detergent and dryer sheets through the school's Amazon wishlist so that they could do their laundry totally free of cost.