Security footage captured the moment when a Christian couple helped save the life of a choking stranger at a restaurant in Florissant, Missouri. When the video was shared on social media, the Bible verses on the woman's shirt and its significance to the situation amazed many people.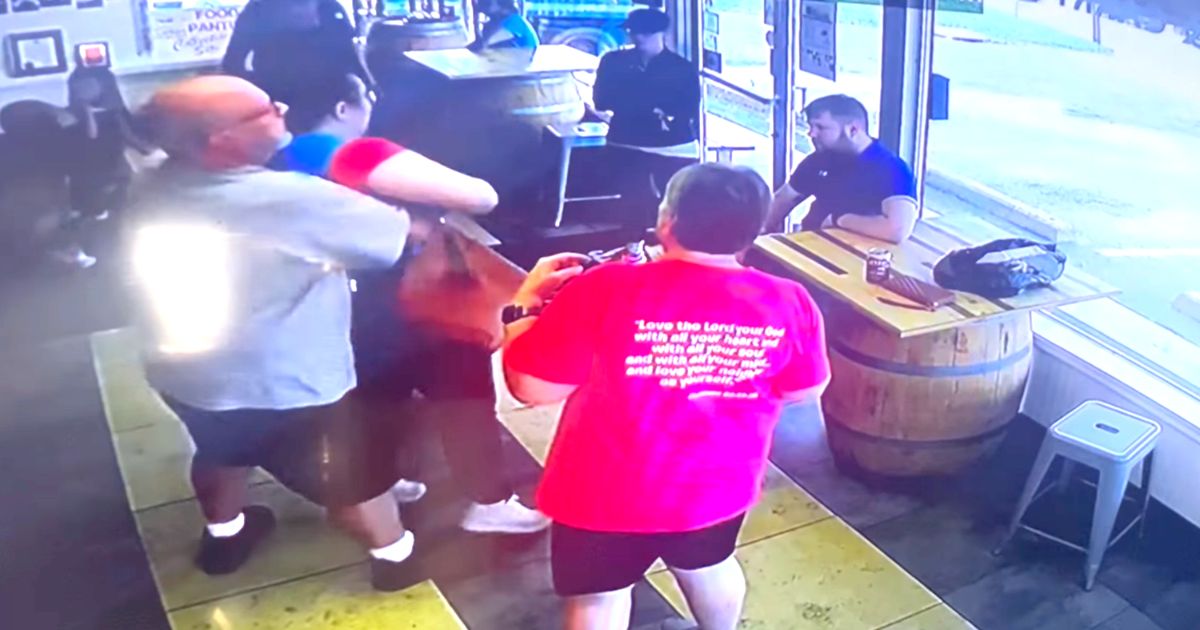 Sarah Schlereth was having her meal at Mann Meats in Missouri  when she choked on her food. Schlereth left her seat and asked for help. Footage shows her going toward Richard and Doretta Irwin, who were from out of town and waiting in line. But God had a plan for bringing them at the "right place at the right time" for someone they never met before.
"I was trying to get the food to go down, and it got stuck to where I couldn't breathe at all," Schlereth said. "Something just told me to go over there."
Schlereth reached the right person Richard Irwin. He immediately started doing the Heimlich maneuver, which was familiar to him due to his own mother's past struggles with choking.
Thank God Schlereth's life was saved, but she was visibly shaken and that's when Irwin walked over to her and comfort her, and asked her if he could pray with her. The devout Christians, Richard, and Doretta Irwin covered Schlereth with prayer.
That's when the outlet noted the Bible verses on the back of Doretta Irwin's shirt captured on security camera and it read, "Love the Lord your God with all your heart and with all your soul and with all your mind and love your neighbor as yourself." Matthew 22:37-39. The Irwins put their faith in action through their act of kindness to Schlereth.
Watch: Couple Saves Choking Stranger In Dramatic Video
Right place at the right time. 🙏

We would like to help Sarah find the customer that was in the right place at the right time yesterday. She had sent us this message today, and when I went back to watch the video of our surveillance, I was in awww as to how quickly everything happened. And a huge thanks to Terry as well for jumping right in to make sure she was ok.

Her message is posted below…

Hello I'm Sarah I came yesterday and got some food though which was amazing you's have the best barbecue and food overall but I am the lady that chocked and was offered some water by an amazing kind employee I was saved my a customer and I was I would've got that customer name and showed more appreciation but I was so shocked from choking and speechless idk if you's would know that man's name or anything that saved my life cause I would definitely wanna thank him again and thank you's again for offering water and being there to make sure I was ok the food was again amazing overall and the staff is amazing and so polite and professional one of the best restaurants I been too

This means a lot to us as well, and we would love to honor this man for taking quick actions that could have easily went a different direction. I was in back cooking, and was unaware anything had happened, until after it happened. If anyone recognizes him, can you please let us know, or let him know, so we can in turn, reunite Sarah with the man that didn't hesitate to help her. She is beyond thankful, as are we that she was able to walk away.

We thank you all in advance.

Posted by Mann Meats on Saturday, 3 September 2022
Speaking to KSDK-TV, Doretta Irwin recalled, "I guess it was an appropriate shirt to have on to what happened Friday," adding that they wore the shirts during prison ministry. Sarah Schlereth was still in shock and did not get a chance to interact well with the couple, and did not get their identities.
But the internet helped her track down the couple after Mann Meats shared the footage on Facebook. The three of them finally met up at Mann Meats on Monday morning and are bound together forever through an act of faith and kindness. Doretta Irwin gives us an important message at the end, "We can make the world a better place if we do love our neighbors as ourselves."