A woman who is far away from her family in Guatemala while she is receiving treatment in Cleveland for an aggressive brain tumor got a little encouragement from a message written on snow outside of her hospital window.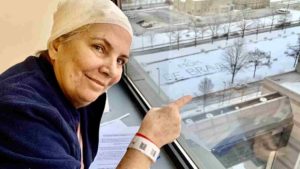 Michele Schambach, has oligodendroglioma and was referred to the Cleveland Clinic by her doctor, has been "feeling down" for the past few days. But when she saw "MOM, BE BRAVE," written on the snow outside of her hospital window, she felt boosted and encouraged.
The message was apparently written by her daughter, Dr. Marie Schambach, who shared photos of her message on Facebook on Feb. 14, and told followers that her mom was "in the best hands in the world at Cleveland Clinic." She added that her mom is a "superwoman."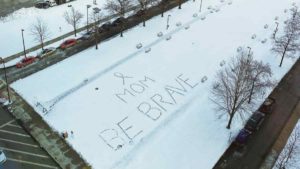 Schambach's tumor was classified as Grade III, meaning it's malignant and also fast-growing and affects patients between 35 and 44 but can occur at any age. The cause remains unknown. Schambach traveled to Cleveland Clinic in October for surgery to remove as much of the tumor as they could before beginning chemotherapy and radiation. She learned this month that her blood counts were not improving, which is when her daughter, Marie Schambach stepped in to help.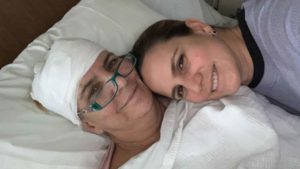 Her message was also featured in a special tweet by the hospital's social media team and said she wrote the message for her mother as she was feeling down about her latest test results. "A beautiful message was left at our main campus today," the clinic tweeted. "To the person who wrote it, you've touched our hearts. #MomBeBrave."