When Deputy Thorne responded to a call about a car sitting on the side of the road. He could have never expected what waited for him. His encounter with the driver turns out to be a meaningful one and a great example of the importance of human touch and connection.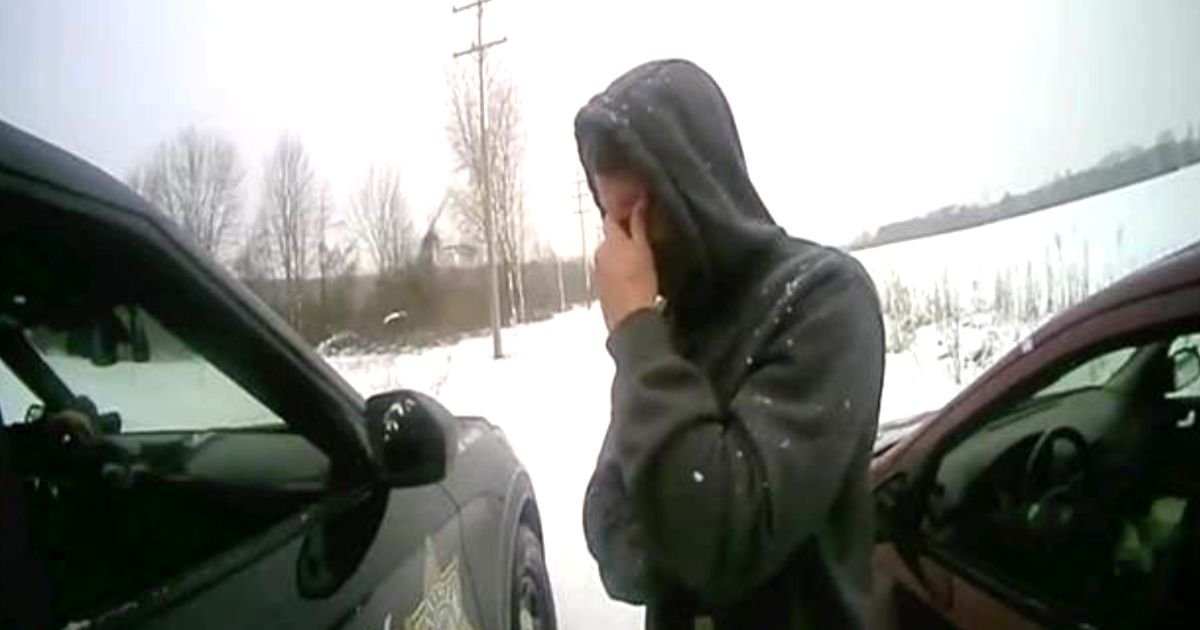 In the early part of this week, Deputy Thorne of the Macomb County Sheriff's Office in Michigan, drove up beside a car to find a distraught driver, who was in the midst of a mental breakdown and visibly overwhelmed by the thoughts in his mind.
The man explained to the Deputy that he was headed to work and had pulled over as he was feeling down and felt that, he needed a break. He said that he didn't want to hurt himself but was upset after having multiple stressful issues which were making him feel overwhelmed.
When asked what could be done to help, the man, named Joe, simply asked for a hug. Deputy Thorne offered Joe a warm and supportive embrace that not only provided comfort but also gave Joe a much-needed emotional release. 
Deputy Thorne and his partner, Deputy Parisek both military veterans sat down with him and talked to him, sharing stories and offering encouragement for the man. Deputy Thorne even gave his contact information, so that he could reach out to him when he needed help in the future.
"I have learned that there is more power in a good strong hug than in a thousand meaningful words" – Ann HoodA few days ago, Deputy Thorne was called to a vehicle that was sitting on the side of the road. The caller was concerned for the driver's safety and believed he may have been passed out. Deputy Thorne arrived to find "Joe". Yes, we changed his name for privacy and took out a lot of personal information. (If you know him, please do not feel the need to post his name in the comments.) Like most traffic stops, a second deputy arrived because he was in the area and that's what we do; we check on one another. Anyways, Joe explained to Deputy Thorne that he was headed to work and had to pull over because he was feeling down and just needed a break. He didn't want to hurt himself. He was upset and had multiple stressful issues making him feel overwhelmed. Deputy Thorne asked what he could do to help, and Joe simply responded that he could use a hug. That was all. A hug. Deputy Thorne was more than happy to help a fellow human and gave Joe a good strong hug as Joe was able to release some emotional tears. For the next twenty minutes, Deputy Thorne and Deputy Parisek, both military veterans, sat with Joe and exchanged some stories, helpful remedies, encouragement, and even a laugh at the end. Deputy Thorne provided Joe with a few resources, including his own contact information, to help him get through the times when he was feeling overwhelmed. The two exchanged one last hug before going their separate ways.Please remember that we are all human. We all have good days, bad days, and days that we feel we might not make it through. But you can. Never be afraid to reach out and make that phone call to hear a helpful voice on the other end. Macomb County Crisis Center can be reached 24/7 at 855-996-2264.We are proud to be the Macomb County Sheriff's Office. This is who WE are.Posted by Macomb County Sheriff's Office on Saturday, 4 February 2023