Dream City Church's Senior Pastor Luke Barnett, and his daughter Annalee, 20, were out trekking in the wilderness but even there the hand of the Lord was upon them and saved the pastor from a disaster.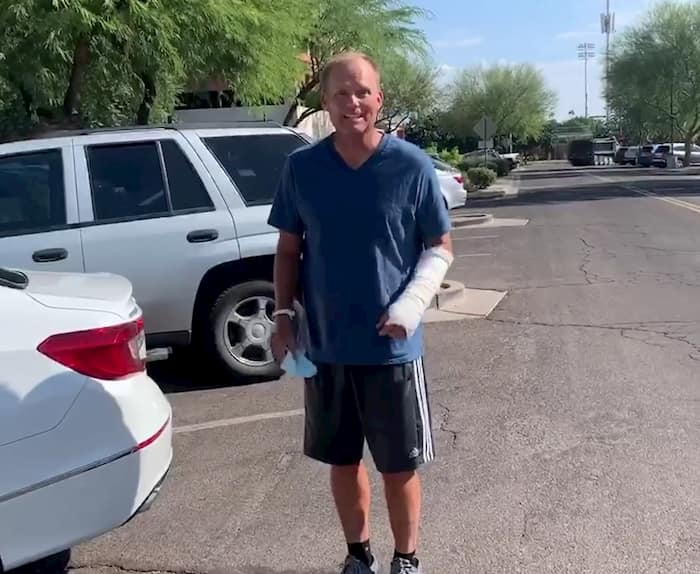 On September 27, the Phoenix-based Church Pastor set out with his daughter with a goal of covering 800 miles in 40 days, "Our plan was to do it in 40 days. Twenty miles every single day," Luke Barnett said.
The two of them were not trekking on the Superstition Mountains but were to raise money for a project based in Colorado to help victims of sex trafficking and polygamy: the Colorado City Dream Center. "We made a commitment," Barnett confirmed. "And there's churches all across America who have sponsored us to finish this trail."
They completed almost a month and 500 miles, but on Oct. 24, disaster was about to strike. "Hiking down a canyon at the Superstition Mountains, we stepped on and off a large boulder that was on the trail," Barnett posted on Dream City Church's Facebook page. "Somehow this 1500+ pound boulder dislodged and rolled towards Annalee. I shouted a warning and pushed her out of the way. Despite my best attempts to stop the boulder, it rolled on top of me."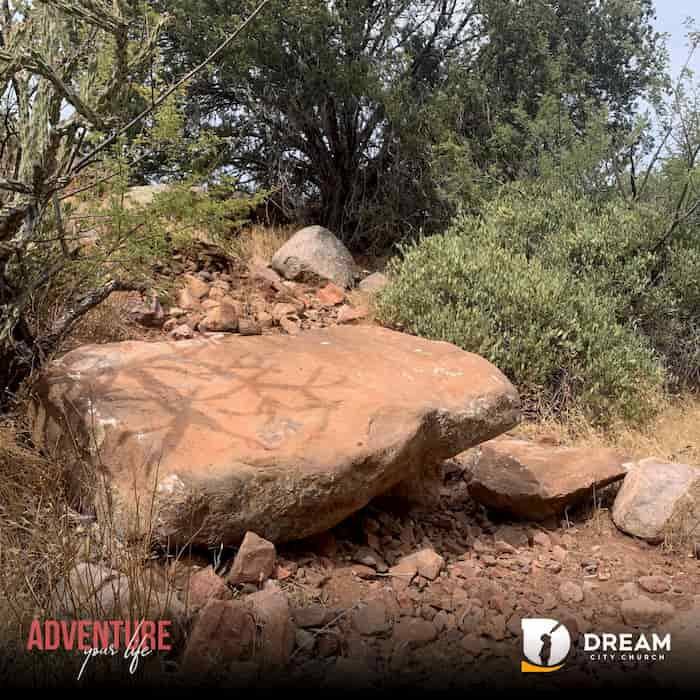 "Annalee was able to pull me out from under the boulder and hike 30 minutes up the mountain to find reception and call 911 for help. They sent an emergency rescue helicopter."
"As I was lifted out of the ravine in the rescue basket, I didn't know all my injuries. The next day, we discovered that I had three broken ribs, a broken forearm, a broken hip, a broken femur, and 40 stitches in my right hand. It's a miracle I'm alive." He spoke well of his daughter who he said did all the right things. "Asked me all the right questions at the time," he said. "'Can you feel your feet? Can you feel your hands?'"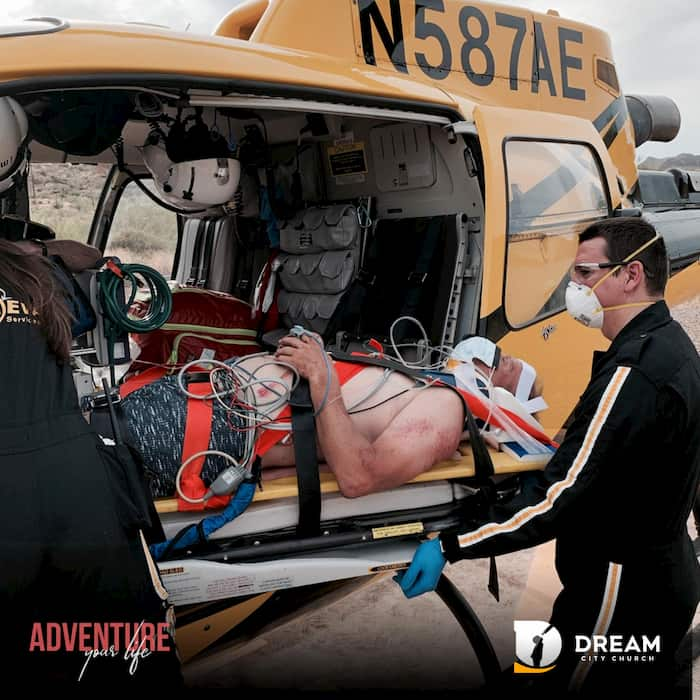 The rock that the Pastor estimated to be 1,500 pounds, was actually much more than that, "They're estimating this boulder was about 8 to 10,000 pounds," he said. The accident meant that he would have to stop their 800-mile hike, but his daughter found someone else to trek with her. "I remember saying to her right before the chopper picked me up, 'This hike has to go on. We can't stop. You're going to have to finish this thing all by yourself,'" he recalled.
By the grace of God I (@pastorlukebarnett ) am so blessed to be going home. Thank you to my amazing team of medical staff at Scottsdale Osborn, you have been nothing short of wonderful, the Lord's angels here on earth.

Although I am discharged and home, this does not mean the Adventure Your Life journey stops. As you know, @annalee.barnett continues on the Arizona trail to finish out our 800 mile hike in an effort to raise awareness and donations for the Short Creek Dream Center @shortcreekdreamcenter in Colorado City. A city in which has been ravaged by generational human sex trafficking.

As I continue on my journey of healing in the comfort of my own home, I ask you to keep praying for Annalee and our mission. We will not rest until all the innocent lives are restored in Colorado City. If you can find it in your heart to support this important mission from the Lord, visit adventureyourlife.org.

To be continued….

Posted by Dream City Church on Sunday, November 8, 2020
Upto now, Annalee had covered 800 miles, and Barnett rejoined her for the rest of the 200 yards. The whole incident has pointed the pastor back to the saving grace of God, "Words cannot express how proud I (@pastorlukebarnett ) am of my daughter, @annalee.barnett !" he posted on Sunday. "At the young age of 20 years old, she has persevered through all the challenges that were met along our 'Adventure Your Life' journey. God's presence was with her and continues to be with her."
The Finish Line of Adventure Your Life

Words cannot express how proud I (@pastorlukebarnett ) am of my daughter, @annalee.barnett ! At the young age of 20 years old, she has persevered through all the challenges that were met along our 'Adventure Your Life' journey. God's presence was with her and continues to be with her. Although she was met with many obstacles along the way, including enduring everything that I went through, she persevered, she NEVER gave up. Because of her commitment, she has helped so many hurting souls in Colorado City.

As I join Annalee on the last 200 yards of the hike, I want to thank all of you. Thank you for your continued support, prayers and generous donations. Together, we have helped restore lives of those who have been abused and trafficked in Colorado City. The @shortcreekdreamcenter will continue to be a beacon of hope for countless innocent souls.

"Consider it pure joy, my brothers and sisters, whenever you face trials of many kinds, because you know that the testing of your faith produces perseverance. Let perseverance finish its work so that you may be mature and complete, not lacking anything." ~James 1:2-4L

Posted by Dream City Church on Sunday, November 15, 2020
"We called the whole campaign 'Adventure Your Life,'" the pastor said, "but it turned into being, really, the miracle of our life that we're even alive today."