There's power in words, and this kindhearted UPS driver put that to great use. He left an encouraging message for a mom who had just given birth and left. Little did he know that he would be blessed beyond imagination because of this kind deed.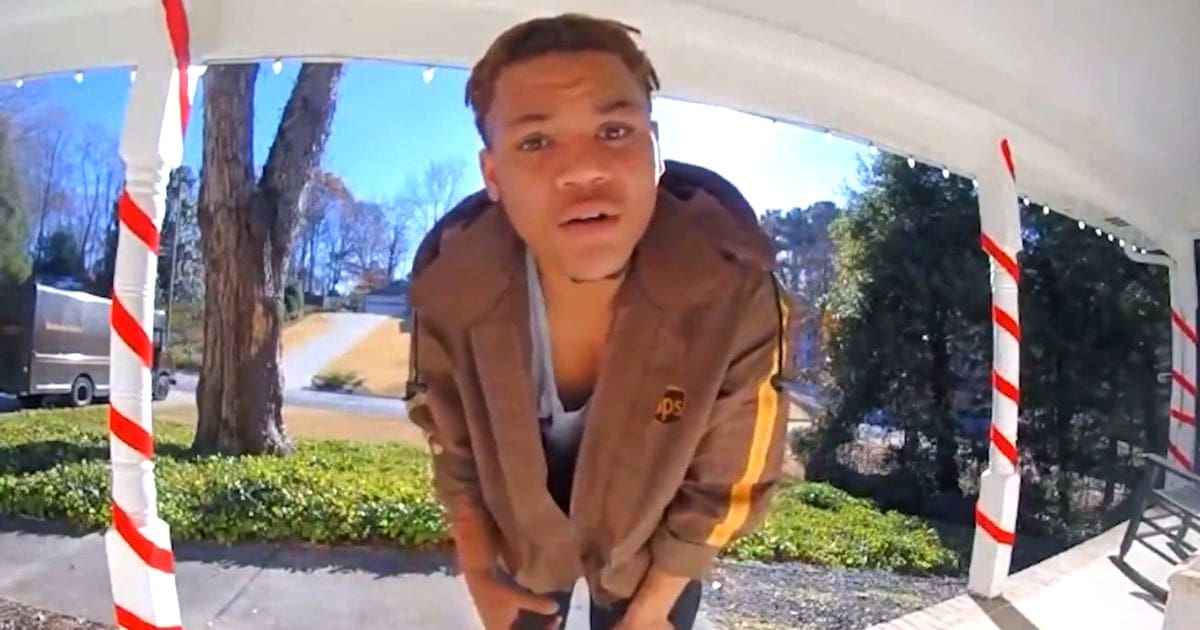 Dallan Harrell, a seasonal driver of UPS, did not deliver a parcel but kind words for these parents who had just welcomed a new member of the family. Kitchel and Mack from Roswell, Georgia, have a daughter named Charlie, and Chancy, their newborn son.
One ordinary day, Kitchel checked her Nest door camera and saw Dallan leaving a heartwarming message. "If this is a 'it's a boy's house, I hope all is going well with your newborn. I had a child at around the same time you guys did. I just hope everything is going good, God bless, and Happy Holidays," he said.
This driver's thoughtfulness so touched this loving mom. "Like most parents, in those first few weeks at home, it can feel isolating," said Kitchel. "The moment that he said that was a time I needed to hear that encouragement at the most important time. I was blown away that he would take a second to end his day to leave that message for me to see how I was doing. It just blew me away."
Lo and behold! She started to search for this kind man's name to thank him for his kindness. She used Social media to find out who this thoughtful employee was. She posted her experience online, and it did not take long for her to meet him. "I mean, it blessed me, and I thought I have to put this out there and let other people know, and I was blown away by how much it blessed everyone that got to see it that day and through the last several days since it happened," Kitchel explained.
Dallan responded by saying, "For me, it was about bringing in a new life, it's also a new experience, and now you're solely dependent for another individual, so with me being in the realm, I'm a parent now, I just wanted to check on them." The UPS driver was back in their neighborhood after a few days. They finally met, and Kitchel also gave him a "thank you token" for his thoughtful deed.
But, Dallan's reward would come in leaps and bounds and not only end with a token. When Kitchel posted her experience online, people from different places joined in clearing Dallan's gift registry for his newborn child. "It's completely overwhelming, and this is just on paper. I have yet to see everything be delivered and feel it even more, overzealous with that joy," he said.
"Yes, he has a newborn, there are so many things you need with a newborn, and so to just see how incredible the community has been, and his registry has exploded, and I just can't wait to see what his doorstep looks like next week," Kitchell said. This thankful mom also noted that Dallan's gift registry is 90% complete.
This loving fellow left people with his heartfelt message, "You never know what people are experiencing no matter how good it looks from the outside." He went on to say, "People don't hear these messages as often as they should or get the hugs, or kisses that they should, especially around this time, people are missing loved ones, my message is to just pay it forward."
Christmas will indeed be "merry" for Dallan. UPS offered him a full-time job with his route when the holiday season ends.
One cannot underestimate the power and impact of a simple act of kindness. Let's be hasty to spread love and joy, especially at this time when everyone needs it.