With the novel coronavirus pandemic claiming thousands of lives daily, one pastor from Ireland is testifying of the miraculous way God used a cleaner to touch him in the hospital.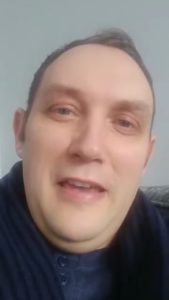 Pastor Lee McClelland was in the hospital with the virus, and as his condition was deteriorating and doctors and nurses were trying to do their best to revive him, he says the nights were terrible in particular.
He says he felt all alone in the hospital with no one allowed to meet him, no family, no pastor, no friends, his soul was in a dark place and he wasn't sure whether he would survive the night or not.
That's when God sent a cleaner to him with a powerful message about God. The cleaner told him that he had been a missionary to Nigeria for 14 years and told him about all the wonderful miracles God had done through him, and now he had returned back to his homeland and was working as a cleaner.
He comforted Pastor Lee McClelland telling him that God can heal him too and nothing was difficult for Him. He prayed for him standing at the door of the room and after he left he felt so much better. The cleaner would pass by his window daily to see how he was doing, with a thumbs-up sign for him.
Pastor McClelland soon started recovering in his health and his breathing too had improved. He then had a craving for prawn crisps and a coke and was telling God to send it to him through someone.
True enough the next day, the cleaner turned up with a bag in his hand, which contained 2 oranges, a packet of prawn crisps and a coke in it. This made the Pastor really understand that God knows our every heart desire and fulfills it according to His purpose.
The Pastor tells the believers all around to watch and pray and for all those who don't know Him to look up to heaven and pray to God to forgive them of their sins and send them His mercy.