A disabled child visiting Chuck E. Cheese was made to feel on top of the world after running into Aerosmith's Steven Tyler.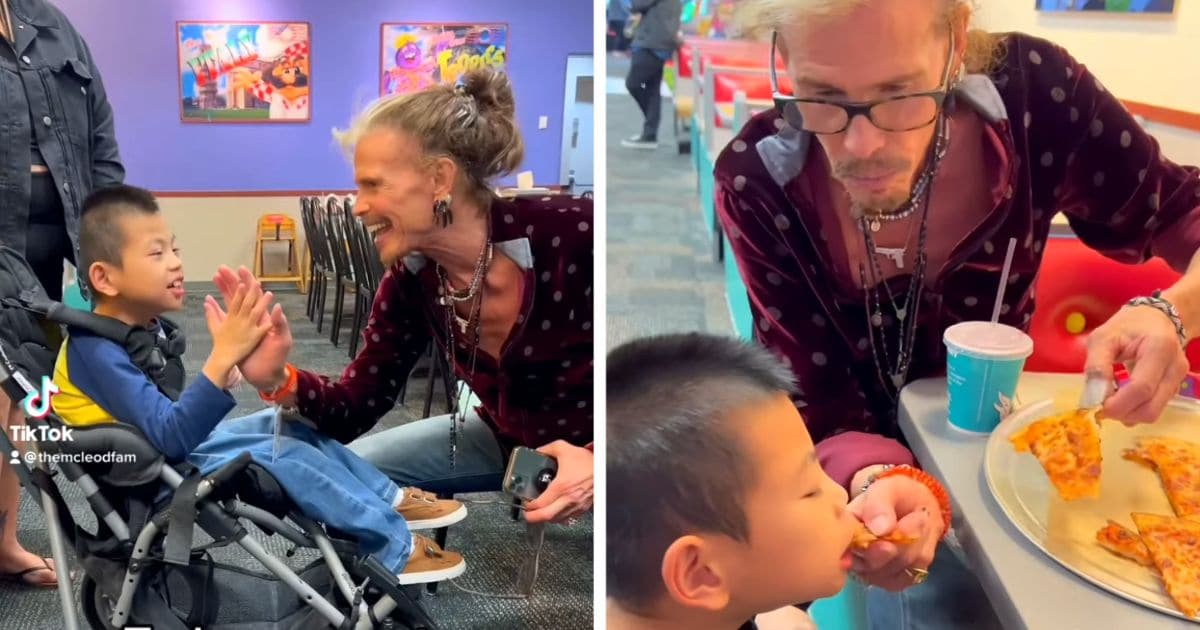 Steven Tyler is the lead singer of the Boston-based rock band Aerosmith, where he plays the harmonica, piano, and percussion and is known for his high screams and wide vocal range.
That day when wheel-chair bound Eli was spending a day at the cheese palace, he and his parents ran into Tyler who spent quality time with him feeding him pizza and playing games there.
Steven looked in his elements as he wanted Eli to have as much fun as he could and was captured on camera taking Eli for a stroll through Chuck E. Cheese.
The part in the video which touched maximum hearts was when Steven was seen cleaning up Eli's chin after the pizza he was eating left some sauce marks on his face.
His parents shared the video on TikTok and captioned it saying, "Today, this incredible human made Eli feel like he was on top of the world. I know Eli will never forget this day."
What a wonderful day Eli spent in the company of a rock legend who was so compassionate and kind towards him. The video has gone viral with more than 500,000 views on social media.
We don't think Eli will ever forget this day in his life and the precious moments he spent with Aerosmith's Steven Tyler. Kindness has such power to change a person completely from within and make them look like sons and daughters of God.
May we all learn to be humble and kind like Jesus was on this earth, He never ignored anyone but gave special attention to children and those with diseases.
But Jesus called them to him, saying, "Let the children come to me, and do not hinder them, for to such belongs the kingdom of God" (Luke 18:16).