This young boy didn't expect a stranger to buy his favorite 'Pantera guitar' upon seeing him play it when he visited the store one time.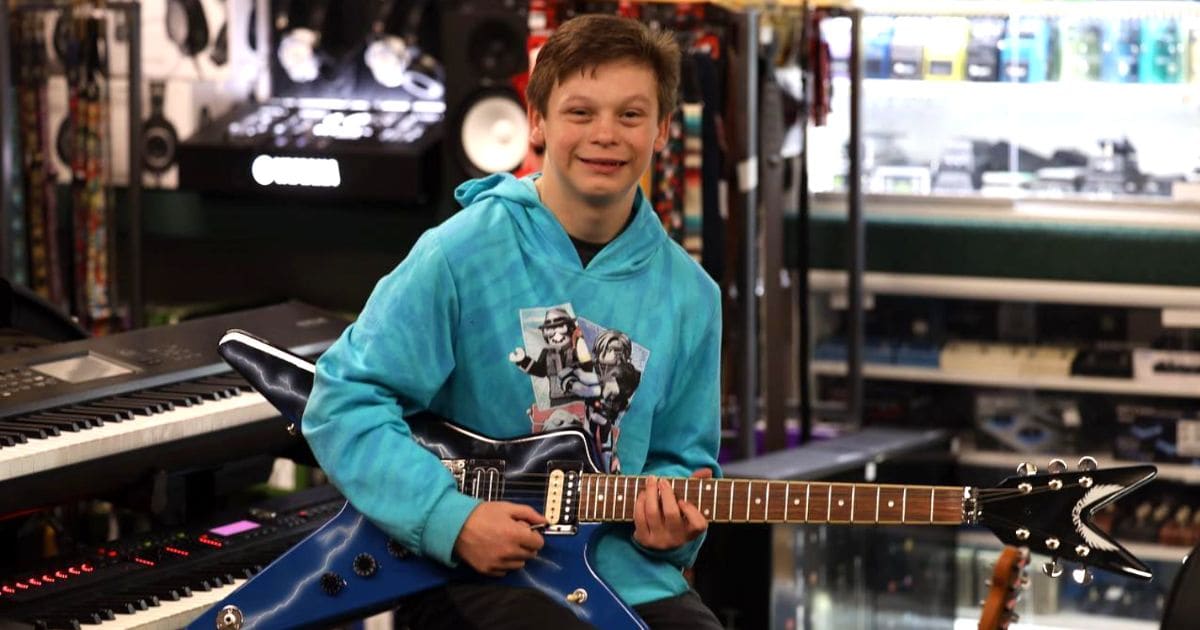 Fallon, a young guitar enthusiast, frequently visited J.B. Hart Music Co., Inc. in Grand Junction for the last couple of years. He came not to buy anything but to just borrow and play the guitar on his visits.
His request was to play the 'Pantera guitar' or the 'Dean Dimebag Darrell' guitar. Dimebag Darell was a famous musician and guitarist of Pantera and Damageplan.
Sadly, Fallon has Williams Syndrome. Williams syndrome is a developmental disorder that affects intellectual ability, heart, and blood vessels. It is also characterized by distinctive facial features. Those who have it may also be good in Music, Language, and memorization.
This young man is a music enthusiast and dreams of having his own guitar someday.
Several months ago, a customer noticed Fallon's great love for music. He grew fond of Fallon as he saw him play the 'Pantera guitar.' The kind stranger came back to buy it and asked the store's staff to give it to this young music enthusiast the next time he visits.
Unfortunately, Fallon did not come as expected. The store's staff tried to find him but to no avail. Until Dec. 31 came, "we tried finding him to no avail. Today, his family came in the store, and we learned they had moved to Texas and returned this week for a visit," they posted in the store's Facebook account. His mom burst into tears, obviously touched by the kind stranger's generosity. Young Fallon beamed with excitement as he passionately played the guitar that is now he could call "his own."
Their FB post has gone viral. It now has thousands of likes and great comments from those who appreciated the stranger's kindness and praised Fallon for his passion for music.
"Each of you should give what you have decided in your heart to give, not reluctantly or under compulsion, for God loves a cheerful giver." 2 Corinthians 9:7
A video from the last post. Please read the story. Congrats Fallon!

Posted by J.B. Hart Music Co., Inc. on Thursday, 30 December 2021