An inspiring video of a boy born without arms landing a box jump will give you the shakes.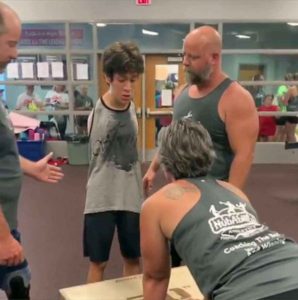 As the trainer shouts to Tim Bannon, 14, born without arms, "Do it now. Jump up on that box now, Go!" He gives it all he has but comes up short when trying to jump on the 20-inch platform. "On the box," she yells. "Do it again." He misses again, but refuses to quit.
They are part of NubAbility, an organization which is into instructing and motivating young amputee athletes like Tim. They are inspired by the the coaches, who are amputees themselves. Coach Sabrina Reiswig is an amputee since she the age of 8, she does not have any mercy for Tim.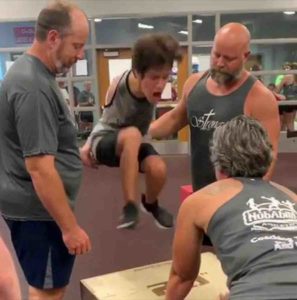 "All the people who told you 'you can't,'" Reiswig yelled. "Right here. Jump on it." Finally Tim is able to do it, and jumps into Reiswig's arm and cries. The heartwarming moment was captured on camera and has got more than 4 million views on Twitter and 500,000 likes on Instagram.
Watch Tim Bannon Landing A Box Jump
The word can't is not there in their camp, said founder and coach Sam Kuhnert, who too was born without his left hand. "We have that outlawed to the point where if a kid says 'can't' on my baseball field, they have 50 push-ups whether they have one arm, no arms, whatever. They have to figure it out."
Box jumps have to done by swinging both arms forward toward the box, but without arms, Tim has to jump with momentum, which is extremely challenging and risky. "We have those arms to catch us, to keep our face from hitting," Kuhnert said. The coaches are there to catch him, if required, but he is risking injury every time he tried to jump up on the box.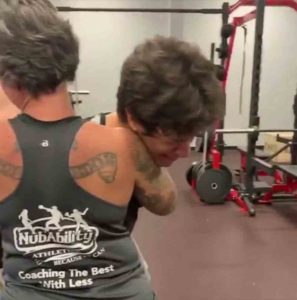 Tim had done a perfect jump before, but this time he was struggling, Brad Vineyard, who had his leg amputated in 2012, said he was doubting himself just before the viral video was shot. "He was pacing," Vineyard said. "He was upset. He was kind of frustrated with himself."
It is this culture of resilience which is the norm at NubAbility. "We're not a support group," he said. "We're not a group that's going to reach down a hand to help a kid up. We're going to teach the kids what they need to pick themselves up."
We salute the resilient spirit of Tim and all the athletes and coaches like him at NubAbility, they are such an inspiration to all the people out there who feel sorry for themselves even though they have their hands and feet intact.