Diner Courtney Ruth Pedigo went to dinner at Olive Garden and was so touched by what one of the waitresses did for her, that she has taken to social media to praise her.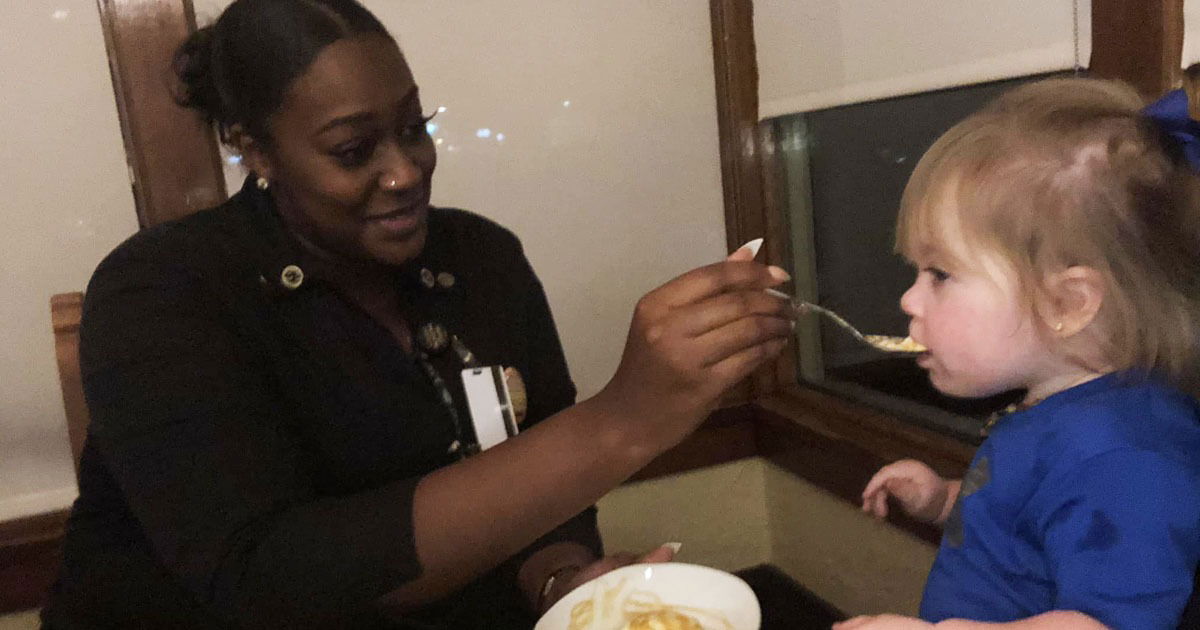 The kind waitress came to Pedigo's rescue during dinner when her toddler started to get fussy during dinner.
Pedigo was just getting ready to enjoy a meal with her father, stepmother, and 18-month-old daughter Harlynn, when she began to be fussy with her food and was acting bratty. The youngster was spending her entire evening avoiding her mother's lap and throwing tantrums, which was making Pedigo feel very overwhelmed.
"She did everything but sit in her high chair and eat her dinner like I picture in my dreams," says the exhausted mother.
Pedigo then asked her server, Nianni Rudder, if she could pack up her food in a to-go box, so she could eat it in the car later with Harlynn.
But to Pedigo's surprise, Rudder said a firm no and told her, "No, she's not bothering anybody," adding, "You're going to go over there, you're going to enjoy your dinner with your family, and I'm going to be over there in a second."
Rudder kept her word, and returned minutes later with a bowl of vanilla ice cream and caramel sauce. Pedigo finally returned to her meal, and was thankful that it was "still hot." Meanwhile, the waitress fed Harlynn the ice cream and even wiped her mouth and hands with a napkin whenever she made a mess.
The family was chatting with Rudder and were surprised to know that along with her being a waitress, she was also attending school full-time to become an anaesthesiologist, all while dealing with the recent death of her mother.
Pedigo decided to showcase Rudder's compassion and made a Facebook post to publicly thank her for her kindness.
"Girl, you will never truly know how appreciative I am for tonight," wrote Pedigo. "I seriously admire you, not only because you took the time to bribe my bratty little human with sweets so I could eat, but because you are so so strong! I know your mom is looking down from Heaven with the BIGGEST smile [because she is] so incredibly proud of the woman you are.
"I aspire to be the go-getter you are, and like I told my dad on our way home, it has to take someone with a strong heart and mind to do what you do because I know I couldn't! Thank you for your amazing service and for being so kind to us all!"