One act of kindness led to another in Pinellas county Florida when a Walmart cashier offered her credit card for a noble cause.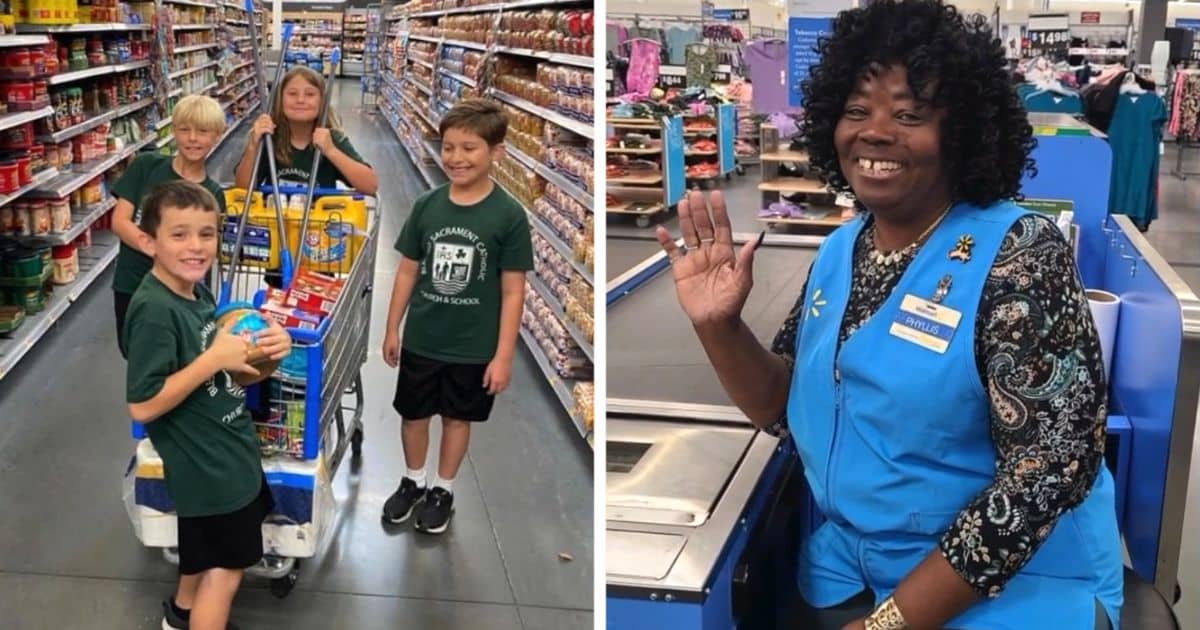 Just recently students of 3rd, 4th and 5th grade from Blessed Sacrament Catholic School, Seminole, Florida organized a walk-a-thon to raise money for the SPCA or Society for the Prevention of Cruelty of Animals.
They managed to raise a whopping $3,500 by donating out of pocket and donations. "They blew it out of the park with how much money they brought in," teacher Leslie Carneiro said.
Twenty-six students, their parents, and teachers went to the Bay Pines Walmart in Seminole to purchase things they wanted to give to the non-profit, they purchased items listed on SPCA's wish list that filled up nine carts full of kitty litter, bird food, paper towels, dog toys, etc.,
They were using their school's credit card to buy all the items but suddenly when they were checking out some remaining items, the credit card was blocked for fraud as the amount charged was too big and it wouldn't go through. By that time, the parents were outside at the car loading the paid items and unfortunately, Mrs. Carneiro had not brought her wallet.
Mrs. Carneiro said, "I told Phyllis let me go run and get some of the parents, I'll be right back with the wallet and she said 'no, I've got this, please let me do this,'" she said. The kindhearted cashier Phyllis Collins used her own credit card to pay for $648 worth of items.
Phyllis Collins didn't need to put the amount on her credit card but she did it with a perfect clear heart because she wanted to contribute to the children's initiative. When parent Amanda Stanganelli found out what the Walmart cashier had done she said, "She did this out of the kindness of her heart. This woman was an angel," she said with a smile.
The children were also moved to find out about the act of kindness, "She was very nice and generous to us," added 3rd grader Noah Sehner. The amount was returned back to Collins later that day by Stanganelli who took it from the money raised by the students and when asked why she did what she did, Collins said that she didn't want the children to put any of those items back on the shelves.
The reason she gave was so heartwarming, she told Stanganelli, "All she kept saying was she had been blessed in her life and God is good," Stranganelli added. She refused to give an interview to ABC Action News and said she wanted the focus be on the students and not on her. "It's a full circle of how doing one act of kindness can lead to so many other acts of kindness," Mrs. Carneiro elaborated.
What a blessing this whole chain of kindness has been to the students, teachers, and students at Blessed Sacrament Catholic School. They are unstoppable as they've spent the first half of the school year gathering blankets, sheets, and towels from home to give away to the animals at the Humane Society of Pinellas County.