The Greatest Dancer talent show has been seeing some terrific performances from the dancers, but a recent ballroom dance audition, by a woman in a wheelchair and her partner, took away the breaths of the judges and audience.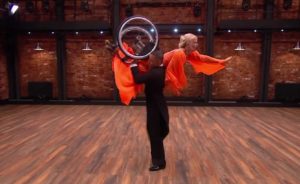 Alex and Jacqueline who are a married couple performed an amazing dance routine on the show judged by Dance Captains, Cheryl, Matthew Morrison, Oti Mabuse, and Todrick Hall, who are searching for the UK's greatest dancer.
As the dance starts, Alex and Jacqueline are seen dancing in a video on a large screen on stage. Alex is wearing a tuxedo, and Jacqueline is in her wheelchair in a beautiful orange dress with long and flowy sleeves.
Soon, the large screen on the stage opens and Alex and Jacqueline dance their hearts out in front of the judges. It is beautiful when Alex lifts Jacqueline high above his head and all of the judges' jaws drop at this sight with the audience erupting.
Towards the end as Alex and Jacqueline kiss, the judges and audience applause for them and we are inspired by these two as they prove that nothing can stop anybody from achieving their heart's desires if they put their heart into it.