The novel coronavirus lock down has been hard for most of us but it is proving to be a very difficult time especially for the elderly and the homeless.
But thanks to some kind and generous people among us who are going above and beyond to look out for the underprivileged in the community, and are helping restore hope in humanity.
Shirley Raines is one such person who was captured on film handing out hamburgers, hand sanitizers and vitamin C from her car to homeless people in Los Angeles Skid Row neighborhood.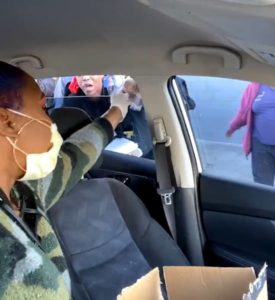 She was captured handing out much needed food and supplies to the poorest of the poor in LA, all while maintaining social distancing from the people. She could be heard shouting out to the people to keep their hands out of the car as she would be reaching out to them.
Shirley Raines chose to go out of the way and put her self at risk to donate food and hand sanitizers to the homeless and underprivileged in our society, this act of kindness has truly warmed thousands of hearts all over the country today.