The entire crowd at a high school basketball game stayed silent for a blind player, so she could hear the hoop.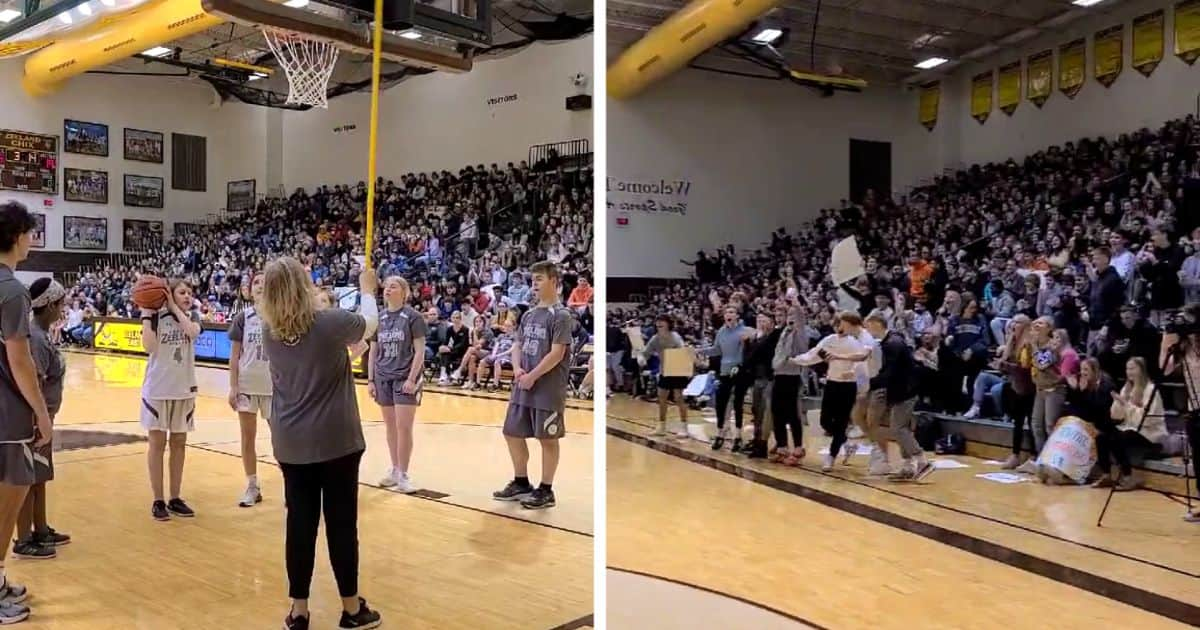 17-year-old Jules Hoogland has been fully blind since being born with a rare disorder called retinopathy of prematurity in which an abnormal blood vessel grows in the eyes of preemie babies.
But her life changed dramatically after that video went viral on social media, and she was flooded with interview requests from everywhere. She says all the fan mail that she's getting is interesting and fun and something she never expected in all her life.
But the moment that catapulted the Zeeland East High School student into the heights of fame was when she stepped onto the basketball court for the second time against Zeeland West High School during a Unified Sports game in Michigan.
Hoogland was awarded a free throw in front of the packed gymnasium that went silent when she lined up the shot so that she could hear the backboard being tapped for her to throw the ball. As soon as the 11th grader's aim landed in the middle of the basket, all 2,500 members of the audience jumped up in applause.
Watch: School Basketball Crowd Stays Silent For A Blind Player, So She Can Hear The Hoop
And you thought March Madness was exciting. Zeeland Public Schools Unified Basketball took over the court this morning, and the crowd went WILD! #ZpsLearningForLife pic.twitter.com/jrnFeBy7bP

— Zeeland Public Schools (@zeelandschools) March 22, 2022
Many people were moved by the video, including her mother who was scrolling through Facebook at work and saw the team's video going viral, she then saw that it was about her daughter and was over the moon. Hoogland said, "She then told me, 'I can't stop watching it and every time I watch it I cry'."
The city officials uploaded the video which has got more than 3.9 million views. Hoogland said, "Blind people aren't just blind. They are human and they can do everything that sighted people can do, just with some adaptations," she said.
She added, "Just because they are blind doesn't mean they can't play sports or do other stuff that sighted people can do. It's been really awesome to educate people in that way, especially with basketball."
"It's a lot of trial and error. It's very different for me as a blind person to shoot. For everyone else they can glance at where the hoop is, but I have to learn how to hold the ball and then I have to learn how far away the hoop is and then I have to learn the height, how tall the hoop is. And then once I get all that down I have to try and get it in."
Hoogland is giving credit for her shot to her on-court helper and one of her best friends, Ally Guffey. She said that she had taken a 2-week break from training before the game in March which complicated things and she said her pre-game shooting practice was "terrible" as she couldn't sink a single ball.
But it was Guffey who had her back and encouraged her to rely on her faith in God. Hoogland said that they built a strong relationship after Guffey started walking her to classes.
The strong community at the heart of the twin Zeeland high schools where students both with and without impairments have contributed to Hoogland's success and she recommends it to her global followers as well.
Hoogland is just living her best life now and is not sure she wants to go to college, the avid skier, cyclist and pianist is figuring out her life and wants to see where it leads her.