Life had entered a different phase for Kaleb Klakulak when he started second grade in Warren, Michigan, he had just moved to that town with his mom after his parents divorced, and as a result of it he was withdrawn and felt uneasy around his classmates-until he met K.J. Gross.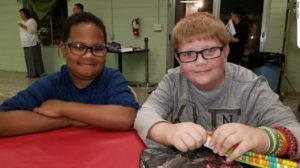 Kaleb said, "It was fun because he liked almost everything I liked." They instantly hit it off and according to K.J's mom LaSondra Singleton, "They were like two of a kind."  But sadly when K.J. died in May of congestive heart failure after a long battle with leukemia, Kaleb now 12, was devastated and when he got to know that Singleton couldn't afford a headstone for K.J.'s grave, he decided to help her out.
His mom Kristy Hall, was fond of K.J and recalls that he came into their life and was amazing and always full of excitement. They would play video games for hours without talking and were really fond of each other. Their moms too had become fond of one another as they had a common similarity-they both were single moms seeking comfort in each other.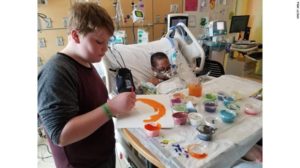 Kaleb didn't mind any of K.J's limitations in their friendship as K.J. was diagnosed with leukemia, and had multiple surgeries throughout his life, struggled with severe allergies and couldn't go out at times. Kaleb used to spend many weeks together in the hospital at K.J's bedside and when K.J was too ill to go out to play with kaleb, he would go to their home to their house and play with him.
Things took a turn for the worse last December, when K.J landed up in hospital with congestive heart failure, and doctors prepared him for a transplant. His mother Hall said, "I would bring Kaleb down there once a week to paint and play games with him," and added, "The hospital kind of bent the rules a teensy bit for him so his best friend could hang out with him."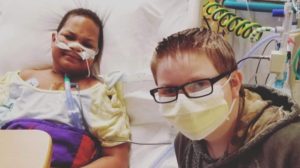 Eventually on a sad day in May, Singleton gave Hall and Kaleb a piece of bad news- K.J was on his death bed. Kaleb and his mom reached the hospital and sat by his bedside, where he lay unconscious. Kaleb said goodbye. Singleton,  had quit her job at a high school cafeteria months earlier to care for her son was completely broken. She buried K.J in a family plot as she could not afford a headstone, she was not only dealing with the loss of her darling son, but also with her mother's early stages of Alzheimer's.
Kaleb was moved by his late friend's mother's plight and started asking his mom how much a headstone cost. He took up some odd jobs to raise money and also collected soda bottles — lots of them. Kaleb's mom's friend sent out a notice in her neighborhood asking people to save their bottles. Hall drove Kaleb all over the town to get them, filling her car multiple times, and then exchanged them for recycling deposits at their grocery store.
Hall set up a PayPal account asking for donations for the gravestone, their goal was set at $2,500. There was an outpouring of donations and so Kaleb and his mom asked K.J.'s mother to come over to their home. They gave her $900 for the headstone.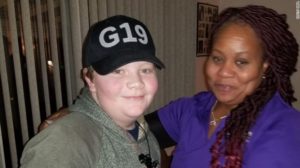 Singleton said, "I cried because it was unexpected. I cried because I'm trying to figure out things from day to day." She added, "I can see his final resting place. I have a place I can go and be with him."
The money is still coming in and they have a total of some $2,500 so far which Hall and her son are planning to give Singleton very soon. But all of this has had a very tough bearing on Kaleb, because he is missing his best friend a lot.
"He's not made another friend since," said Hall. "I believe it's hard for him because he's afraid. He doesn't want to lose someone else."
At a time when the world is being torn apart on the lines of race and color, this life story of two friends and their moms who come from different backgrounds loving and caring for one another so deeply is something what the Bible has taught us to do. 1 John 3:17: says, "But if anyone has the world's goods and sees his brother in need, yet closes his heart against him, how does God's love abide in him?"