The bridegroom who had inspired America by walking his bride down the aisle, despite being paralyzed from the neck down, is doing it again by fostering and adopting children.
Chris Norton said, "We have fostered 17 children and we've adopted five girls," he said, "I'm outnumbered, Les! I need help, I need help!"
Norton and his wife, Emily, have shared their story in a new memoir, "The Seven Longest Yards." Norton said, "The seven yards comes from my goal to walk Emily seven yards down the aisle on our wedding, to do it side by side, and it took seven years in the making," Norton said. "All the way from spinal cord injury to that wedding day."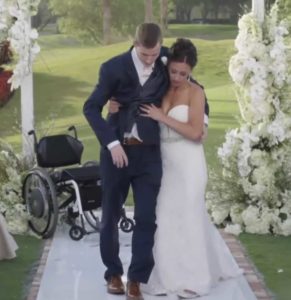 Norton had suffered a terrible injury during a college football game in 2010, and was told that he would never walk again in life, but when he met Emily, she changed his life around and inspired him to get stronger. She even helped him to walk across the stage at his college graduation and on their wedding day as well in 2018.
The Iowa couple have seen many highs and lows in their life. "I really went through a dark depression," Emily said. "I struggled with anxiety and I slowly just started losing myself. … To be able to just admit that I need help … that was something that I had never been able to do."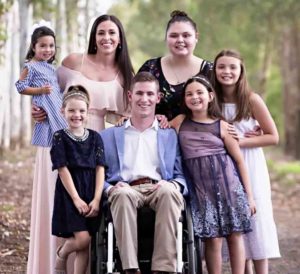 The couple decided to start a family- by fostering and adopting. "We know the need," Emily said. "So we just look at it like we're in this position to give love, to give them a family and help them know they're not alone."
What a beacon of hope Chris and Emily are to the world, they are giving the ultimate gift of love and acceptance to their 17 foster and adopted children.
Watch the moving adoption story below.