A military dad pulled off the ultimate homecoming prank when he surprised his four children by hiding behind a Welcome Home banner at the airport.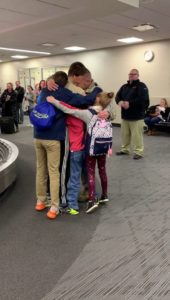 Captain Patrick Minnich, 39, was deployed in Afghanistan, and was reunited with his kids, Michael, 15, Ashton, 13, Xavier, 10, and Jolie Minnich, nine, at Columbus Airport. The children had been visiting their aunt and uncle in Columbus, Ohio, from Oklahoma City.
The top secret mission was not even revealed till a few hours earlier, to the children's aunt and uncle Marcia and Jeff Kish.
In the video, the excited children can be seen scrambling down the escalator to the waiting area by the baggage claim, where family members are waiting, suddenly someone shouts: 'Michael, wait no, Michael come here!'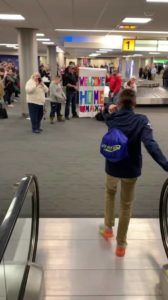 The banner which read 'welcome home' was then dropped revealing Captain Minnich to the delight of Xavier and Michael, who sprinted to their dad, exclaiming: 'Daddy!' and jumped on to him, they were followed by Ashton and Jolie, with onlookers cheering them on.
One of the boys, cheekily asked their dad who had not been home since April, 'You're home? What took you so long?' Captain Minnich can be seen bending down to embrace the two younger children, Xavier adds: 'Why couldn't it have been sooner?'
Watch: Military Dad Surprises Siblings In Emotional Video
Captain Minnich returned from Kabul for a four-week training course in Fort Lee, Virginia and was given time off to visit his family before returning back to his military commitments. He had first visited Mr and Mrs Kish before planning the surprise for the children.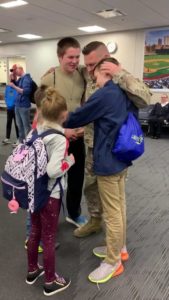 Captain Minnich enjoyed a week off with his family and has since returned back to Kabul to continue his deployment till May 2020. We pray for the safety and security of our brave soldiers deployed abroad especially during this war-like situation in the middle east, we ask almighty God to be with them every step of the way till they return back home safe and sound to their families.