Storm chaser Tanner Charles may be known for his pursuit of wild weather events, but on a particularly stormy day in March, he found himself in the center of a different kind of whirlwind, one that tugged at the very strings of his heart.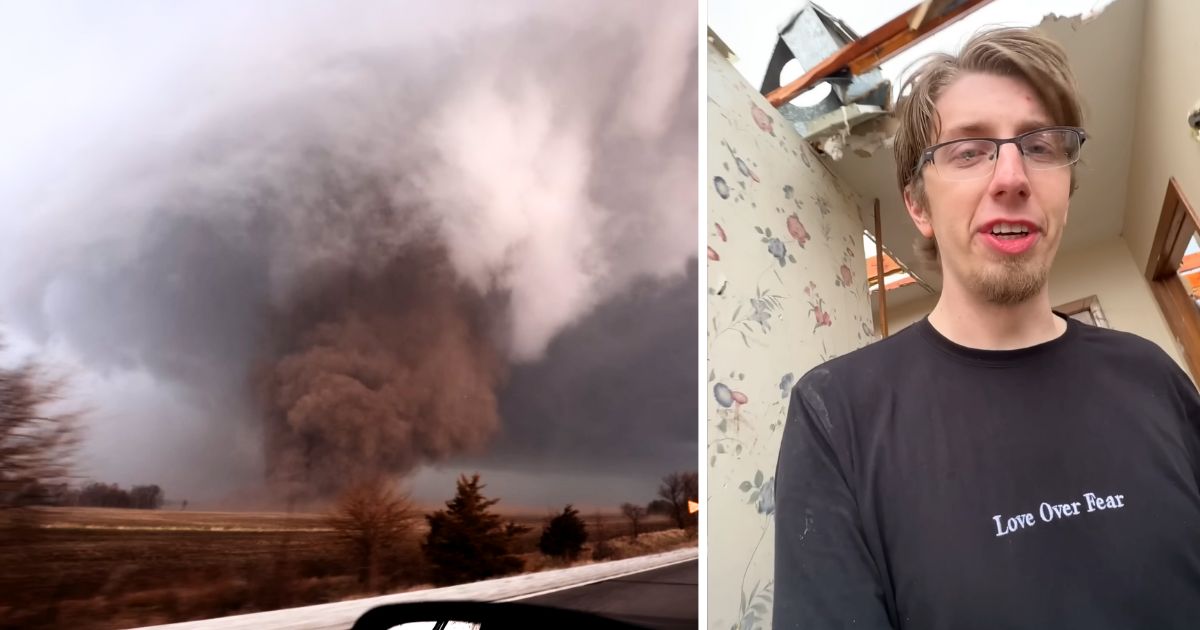 Charles, a devoted Christian, lives for the thrill of chasing storms. This is not merely a reckless pursuit of adrenaline, but a passion that sees him meticulously observing and documenting the marvels of nature's power for his considerable social media following. On this particular day, however, his storm-chasing venture took an unexpected turn, leading him to play the role of a real-life hero in the small farm community of Hedrick, Iowa.
As he followed an EF4 tornado—a weather phenomenon with wind speeds up to 200 mph—his eyes were fixed on the beastly spectacle. Capturing a video, which would eventually garner over 2 million views on YouTube, Charles exhibited awe and excitement as he narrated the rapid evolution of the weather cell into a full-blown tornado.
However, his elation was soon checked as the tornado began closing in on a nearby town. In a poignant moment captured on video, Charles implored the heavens for mercy, praying, "God, please spare this town, God."
Shortly after, the storm chaser crossed paths with a pickup truck facing the wrong direction. The driver, Wayne Sanders, and his wife were on a desperate journey to reach Sanders' parents' house before the tornado. Unaware of the velocity of the tornado, they had unknowingly braved its path, resulting in the activation of their truck's airbags.
Charles, never forgetting his Christian values in even the most turbulent situations, offered the couple a ride. The following moments were heartrending as they led Charles to the Sanders' parents' destroyed home. Wayne's parents, Clarence and Nancy Sanders, had taken refuge in the only surviving part of their home – the bathroom.
In a video that has now been viewed millions of times across social media, Charles was seen fervently praying for the safety of the elderly couple as he drew closer to the wreckage. Once he saw them safe, his prayers of desperation transformed into prayers of gratitude.
Relieved, he said, "Oh thank you God. I'm just glad you guys are OK." The video was fittingly titled, "Most Emotional Storm Chase Ever."
Amidst the destruction, a ray of hope emerged as a GoFundMe was initiated to aid the Sanders in rebuilding their lives.
What began as a chase for awe-inspiring weather footage ended up as a journey of faith, resilience, and humanity. Charles's commitment to helping those in need and his unwavering faith amid the chaos serve as an inspiring testament to the power of compassion.
In Charles's own words, "It's human life over anything. It has to be."
"Do not neglect to do good and to share what you have, for such sacrifices are pleasing to God." – Hebrews 13:16